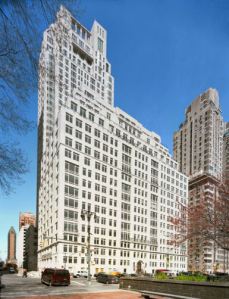 Despite the best efforts of the media to map out every buyer at greatest-building-ever 15 Central Park West, there are still those apartments that remain a mystery. Unit 27A is among them.
Purchased a little later than most, in June 2008, this three-bedroom condo was purchased by an anonymous LLC and it has just gone to not one but two LLCs. We smell investment properties!
And what an investment it is. Poseiden LLC paid $11.7 million for this 3,100-square-foot spread, and it has just been sold for $24.5 million to Julada LLC and Julada Two LLC (sounds like some fancy drink at a Starbucks in Tel Aviv).
What makes A-line units so appealing is they have three frontages, on the park, Broadway and to the south, so there is plenty of sun. Also, this one has been upgraded beyond the luxe Robert A.M. Stern finishes, according to Richard Walgren's Brown Harris Stevens listing: "Beautifully decorated and upgraded with state of the art electronics and sumptuous curtains and wall coverings."
So does this mean in three years the place will sell for $60 million?
Read past Manhattan Transfers here. >>