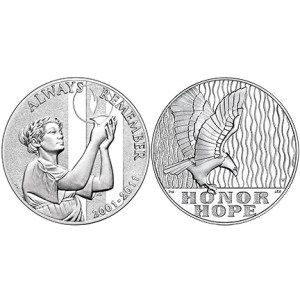 At the preview site for the September 11 memorial this afternoon, Congressman Jerrold Nadler showed off the newly-minted coin commemorating the 10th anniversary of the attacks.
The front of the silver medal — which is not technically a coin, since it's not legal tender — bears the image of lady liberty and the inscription 'Always Remember,' and was minted on Congressional mandate as part of an effort to fund the World Trade Center Memorial and Museum.
"It's important as a commemoration," said Nadler, who represents the World Trade Center site.  "You have to honor the dead and honor everything that happened. And this is one of those rare events that deserves it. And second, the potentially $20 million of proceeds of the sale of these medals will go to supporting the museum."
Each medal costs $56.95 —  with $10 going to the memorial and museum– and the mint is authorized to print up to 2 million, depending on demand.
According to United States Treasurer Rosie Rios, who joined Nadler at the ceremony, about12,000 medals were sold in their first 90 minutes on the market, which amounts to $120,000 for the memorial.
"This medal's design is intended to exalt the memory of those who sacrificed their lives or were injured and the families who continue to show dignity and strength in the face of terrible loss," Rios said.
Nadler and Senator Chuck Schumer, who did not attend, jointly introduced the bill authorizing the medal, which passed last August. According to Mr. Nadler, "the rules [in Congress] disfavor commemorations, and only the strongest and most heartfelt ones have a chance."
(Earlier this year, the two legislators fought off an impostor 9/11 coin that was being sold by a Pennsylvania company.)
Joe Daniels, the president of the 9/11 memorial, told The Observer that the partnership with the Mint is crucial in developing broader national support for the memorial, which is estimated to cost $50 million per year.
"We will never ask visitors who wish to pay their respects to the nearly 3,000 victims of 9/11 to pay an admissions charge," Daniels said.  "The evidence of this revitalization shines a spotlight on the failure of Osama bin Laden's murderous attack on this city. It shows that New York's future is bright and its best days are still to come."
The medal is being advertised in coin collecting trade magazines and is available through the mint's website.