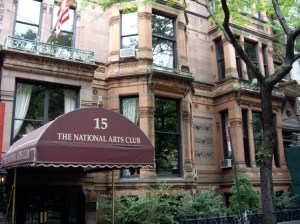 Wanted: Roommate for BRAND NEW PLUSH room in 160-year-old building, completely renovated. Right off Gramercy Park, located near two subway stops (NQR/L/456), tons of bars, farmers' market, adjacent. Non-smoker/celebrity preferred. NO BIRDS. Price: $100 per square foot.
Though it may be slightly out of your price range, the National Arts Club is planning to open its doors to renters for the first time ever, Real Estate Weekly reports. Ten apartments in the Tilman Mansion will undergo a major renovation, and may even go for as much as $80,000 per year.
It's a move that clearly departs from the low-rent shenanigans of recently ousted president Alden James, though new president Dianne Bernhard says the club isn't hard-up for cash.
"We're getting them all cleaned up," she told REW. "We have to work on the electricity and the plumbing, but it's early on in the process."