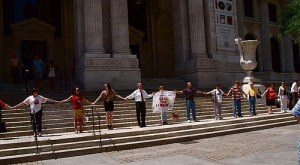 The New York Public Library is facing a $40 million budget cut that it calls the biggest in its 100-year history. Loyal library patrons facing a four-day library week, fewer new books, branch closures and staff reductions have initiated a campaign of non-violent resistance, like their recent library "hug" (aw) and an impressive letter writing drive that has generated more than 90,000 missives to local pols.
Meanwhile, on Twitter, a controversy about Jonathan Safran Foer, bestselling author of twee novels and a vegetarian polemic, belatedly erupted yesterday. In April, Mr. Foer, along with 14 other writers and scholars, received a Cullman Center grant from the NYPL. The privately-funded grant gives writers full access to the research collections of the New York Public Library, as well as $60,000. The novelist was singled out for complaint (and a parody or two).
"What business does Jonathan Safran Foer, who is quite rich, have getting a Cullman grant?" wrote Edward Champion, writer and contributor to The Millions book blog. "Disgusting."
"Maybe Foer is there as subject for fellow Cullman pick 'Professor Shamus Khan writing about social elites [sic],'" responded Rob Spillman, editor of Tin House.
Amy Geduldig, a library spokesperson, was quick to quash the disgruntlement. "The Cullman Center doesn't choose their applicants based on celebrity or external influences," she said. "They're selected based on their merit and whether they will use the library's collections." Furthermore, the publicly-funded budget facing cuts is not the privately-funded foundation that's bankrolling the author, whose book Extremely Loud and Incredibly Close is currently being adapted for the screen. But he might want to make a celebrity appearance at the next library hug.