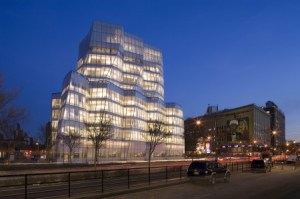 How ever is NewsBeast to compete with the Huffington Post and The New York Times without nap rooms?
Newsweek and The Daily Beast are leaving their downtown offices for the impressive IAC building in West Chelsea. The second floor had to be remodeled to accommodate Newsweek after it merged with The Daily Beast (which IAC launched), but at least one expense was spared in the development of the new office space.
There are no nap rooms! (And apparently, there's some competition brewing between the Times and HuffPo about which has the best one.)
Reporters will have to rough it in the Frank Gehry-designed building, which overlooks the Hudson River, without the comfort of a designated place to lay their heads when they are weary (or just hungover). But it's better than temporary space they were forced to occupy while the IAC building renovations were under way.
There is one further bright spot in all the darkness: the IAC building does apparently have a "relax room" just a few floors up, The Cutline reported. It might not be too quiet though; the room is shared with other tenants in the building.