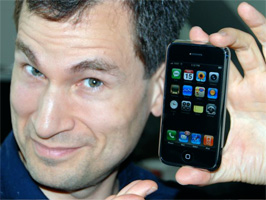 The Sword of Damocles hangs high for David Pogue. Yesterday, it was revealed that New York Times' star tech columnist — the ever conflict-prone David Pogue — is embroiled in yet another ethics litmus test for the Times yet again. As of this morning, the paper has yet to decide his fate. Meanwhile, another micro-scandal has emerged on his own blog at the paper.
Jim Romenesko reported on Monday morning that a video of the goofy, affable, and intensely popular Mr. Pogue was being promoted as part of an upcoming $159 seminar for publicists to learn about shilling to journalists ("Pitch Me, Baby!"), which included a "video rebroadcast" of him speaking on the matter of his favorite publicity pitches. From the release, you can learn:
What you should NEVER do when pitching a reporter
Why you should be passionate about pitching perfection
Pogue's five "pitch pet peeves"
How to be clever and imaginative when pitching a story (complete with David's favorite examples)
Real-life pitches: the great, the good and the ugly
"The Ugly," in this case, may turn out to be the pitch on Pogue's involvement itself, as the Times ethics policy strictly prohibits writers from working with publicity professionals in order to avoid thorny, nasty conflicts. Jeff Bercovici at Forbes points out that the policy reads (emphasis ours):
It is an inherent conflict for a journalist to perform public relations work, paid or unpaid. Staff members may not counsel individuals or organizations on how to deal successfully with the news media….
This is far from the first time Pogue has been embroiled in an ethics conflict. The Observer wrote about Mr. Pogue's numerous scraps with the paper's policies last month notable mostly for how he managed to escape the wrath of the ethics policies completely unscathed, something many other Times freelancers fired by the paper haven't.
When contacted by the Observer, Times technology editor Damon Darlin referred us to a spokeswoman for the paper, Eileen Murphy, who explained that discussions over this particular engagement was (as of this writing) still "ongoing" and that it may take a few days to sort out. She also explained over email:
"As a freelancer with a number of activities beyond The Times, David has some leeway in work he does on his own time, but he is expected to consult with his editors to ensure that none of that work poses a conflict with his assignments for The Times." When asked if this leeway was extended to all freelancers, Ms. Murphy repeated the previous stance ("As noted, David has some leeway given that he is a freelancer with a number of outside activities beyond The Times.") and yet, when pressed on the matter — Don't all freelancers inherently have activities outside of the Times? — she noted:
"Here's what all freelancers have in common.  They must consult with their editors to ensure that any outside work not conflict with their assignments for The Times.  And yes, that is a matter of policy."
The last headlines Mr. Pogue made regarding the Times' ethics policies were when it was revealed that he was dating a publicist. The matter was discussed with his editor, Mr. Darlin, and resolved in a manner sufficient for the paper: Mr. Pogue would forward all pitches from the publicist's company and would not accept pitches from her. They noted that Mr. Pogue approached Mr. Darlin as soon as a conflict was in view, and that the matter was handled according to protocol.
It would appear the Times was caught off-guard by Mr. Pogue's recent entanglement with publicists; this kind of behavior has typically resulted in summary-execution style firings from the Times: zero-tolerance. Mr. Pogue is, for the Times, a valuble asset. He has been called the "Oprah of Gadgets." His Twitter follower count exceeds that of the entire Times technology reporting staff put together.
And yet: Mr. Pogue is repeatedly accused of being in an ethical grey area, especially when it comes to being a shill for Apple products (he has a bestselling series of books on them, and writes about them routinely for the paper). As recent as four days ago, Mr. Pogue was updating a post he wrote about the latest version of Apple's new film editing product, Final Cut Pro.  Mr. Pogue lauded the product; professional film editors took to his comments section to explain just how terrible it is. To help defend his review, Mr. Pogue printed answers provided to him "from consultation with Final Cut Pro X's product managers at Apple." A few lines later, he begins a paragraph:
"I'm not trying to be an Apple apologist…"
fkamer@observer.com | @weareyourfek