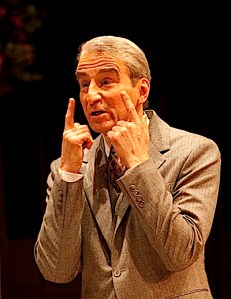 There is an Oz-like aspect to experiencing a reading of Simon Gray's play The Old Masters at the Metropolitan Museum of Art—the wizard being the art dealer Joseph Duveen, whose altercation with his longtime colleague, Renaissance art historian Bernard Berenson, over a painting's attribution forms the play's central plot line. Some 124 masterpieces in the Met's collection—including seven Rembrandts—made their way there via Mr. Duveen. To witness Mr. Duveen in action is to pull back the curtain on an aspect of art history that is especially intriguing to us these days: the market aspect.
The Old Masters, which Mr. Gray wrote in 2004, had a run at New Haven's Long Wharf Theater earlier this year. It made its way to the Met, where it has a final reading on June 27, because Harold Holzer, the Met's director of communications, is friendly with actor Sam Waterston, who played Mr. Berenson in New Haven. Mr. Waterston rallied his fellow cast members (Shirley Knight as Mr. Berenson's wife, Mary; Heidi Schreck as the historian's assistant and mistress Nicky Mariano; Brian Murray as Mr. Duveen; and Rufus Collins as Mr. Duveen's assistant, Edward Fowles).
Mr. Waterston may be best known for TV's Law and Order, but he's played a famous art world figure—in 2009 he was gallerist and photographer Alfred Stieglitz in a reading of his and Georgia O'Keeffe's letters at Christie's auction house. Mr. Waterston's mother, daughter, sister and niece are all painters; he's even given it a shot himself. "When we bought the house we now live in, it came with a studio, so I thought, 'I'll paint,'" he told The Observer. "I tried, but it's a little bit like my singing. It's not so much whether it's good or bad, it's that it's being done at all that's impressive."
His interest in Mr. Berenson is longstanding. He and his wife visited Mr. Berenson's villa, I Tatti, in Florence, Italy, where the play's action takes place. "The house was his and his wife's personal creation," Mr. Waterston recalls. "It speaks volumes about his personal taste. It's a beautiful place."
Even despite the lack of a set, the Met reading is lively, a testament to Mr. Gray's strong dialogue, and the actors' skill in conveying emotion. The play is good but not great; and yet, describing as it does the inner workings of the art market– as it was in 1937, anyhow—it well may be the most relevant work of art on view in New York at the moment.
Last summer, apropos of the ESPN program devoted to LeBron James's now-infamous "decision," Walter Kirn wrote in The New York Times Magazine that "in the contemporary entertainment business (and also, increasingly, in sports and in politics), it's the business that's the entertainment and the art of the deal that's the art that draws most notice." Mr. Kirn called it "procedural voyeurism." "We have become a society that is fixated on process and absorbed by the slippery, complex machinations of the middlemen, brokers and executives who conspire offstage to determine what takes place onstage."
So it is with visual art. We are no longer quite as interested in how paintings look or even in where we happen to see them as we are in precisely how they got there. What sum changed hands? Who wrote the check? What discount was given, and why? What was it worth last year? Will its price go up? Think of it as the LeBronization, or Decisionization of art: we are interested, above all, in the deal.
The Old Masters is a verbal chess game. Mr. Duveen wants Mr. Berenson to change his attribution of a painting from Titian to Giorgione, so Mr. Duveen can sell it to Paul Mellon. (The details of the scenario were imagined by the playright.) He dangles before the cash-strapped Mr. Berenson a full partnership in his business. Mr. Berenson informs Mr. Duveen that London's National Gallery may cancel Mr. Duveen's trusteeship, after he attempted to sell the museum a painting he owned, the equivalent of selling a painting to himself. Mr. Duveen complains about the gaucheness of nouveau riche collectors: five and dime store magnate Samuel Kress is looking for bulk bargains on masterpieces.
These are the very subjects that so fascinate us today. At the Venice Biennale earlier this month, many complained about the yachts parked along the Grand Canal, one of which cordoned off a huge section of sidewalk with a security gate. The boats belonged to today's nouveau riche collectors who are transforming the art world, and whose doings we can't seem to read enough about.
Last week, at Art Basel, no sooner had the fair's first day of business drawn to a close than PR agencies representing dealers—this is itself a relatively recent phenomenon—began emailing to journalists not just news of those dealers' sales, but often the prices at which the artworks had sold. The Observer is old enough to remember when, as recently as ten years ago, getting prices out of dealers at fairs was like pulling teeth; these days, alert to what readers want, the art world is hanging out the banner of transparency. But that banner doubles as a veil, behind which, we get the sense, the juiciest of transactions hide.
So The Old Masters strikes a chord. We are in the inner sanctum. The wily Mr. Duveen, whose success at selling is attributed to his unfailing charm, has slipped a check for $19,500 into the pocket of Mr. Berenson's suit jacket.
And yet these two cantankerous powerhouses reach a stalemate. We are used to hearing about the art of the deal. This play reminds us that it can come down to the art or the deal. For that reason alone, it is worth seeing.
sdouglas@observer.com