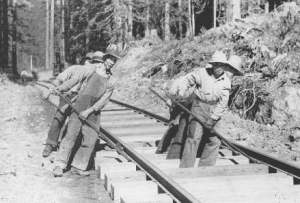 "An explosion of online news sources in recent years has not produced a corresponding increase in reporting, particularly quality local reporting, a federal study of the media has found," wrote New York Times reporters, Jeremy W. Peters and Brian Stelter. They then high-fived David Carr, hate re-tweeted a Patch story about the Stony Creek High School Class of 2011 ("Brilliant"), and watched Page One, again. JK!
But according to AOL/HuffPo editor Saul Hansell, Patch is simply ahead of it's time. It's like building the railroad 150 years ago, he said on a panel about the Future of Media (unrelated to the "Future of Media" report by the FCC which Mr. Peters and Mr. Stelter refer to.) We assume he meant that Patch's infrastructure and influence will redeem its high overhead costs, but let's not forget that the transcontinental railroad was mostly realized by underpaid imported laborers, too.
If you get off on making and listening to smug prognostications, we suggest throwing your name in the hat for Columbia Journalism Review editor in chief. "The editor in chief position was made possible by a funder, and I think part of the idea is somebody who enjoys meeting funders and being on future-of-journalism panels more than I do. I would rather go to the dentist than be on a panel," CJR executive editor Mike Hoyt told Romenesko.