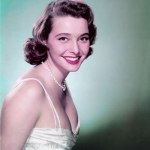 No more breakfast at Patricia's.
The Yorkville apartment of late actress Patricia Neal has sold for $1.125 million, according to city records.
Neal, who died last year, won an Oscar for her role in Hud and was also featured in the New York classic Breakfast at Tiffany's. Her two-bedroom co-op at 45 East End Avenue overlooks the East River, but might need some touching-up.
"Being on a low floor looking over the East River is ideal because you really experience the river and see the boat traffic all day long, whereas if you're too high up all you see is Queens," said Amanda Brainerd, the Warburg broker who was listed on the sale.
"It needed some updating," Ms. Brainerd added. "It had the original bathrooms and the kitchen is probably 20 years old. There had been a lot of memorabilia hanging on the walls, leaving marks. Patricia Neal lived there for a long time."
The home still has some of the classic elegance and simplicity befitting a silver screen star—plus a bit of bragging. Rather than hide away her awards and memorabilia in the six closets or on the balcony, Neal proudly placed them throughout the apartment.
Were the buyers, Susan and Michael Mintzer, a psychotherapist and attorney, respectively, starstruck by their new home? Possibly, since they paid pretty close to the asking price of $1.195 million.