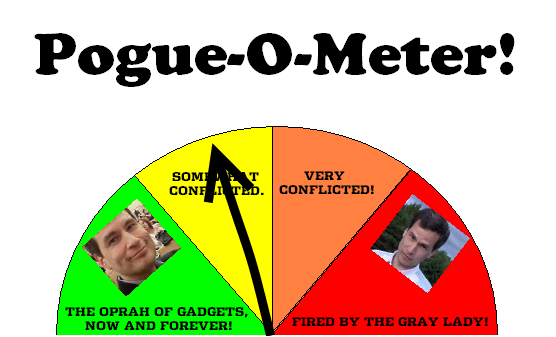 All's quiet on the West 41st Street front in regards to the New York Times' very-valued personal technology columnist David Pogue. Mr. Pogue—not-very-arguably the most popular personal technology columnist in the country—has found himself in a bit of an ethics fiasco. Not exactly the first time this has happened. And yet: the Times has yet to deliver a typically draconian ruling on what seems to be a blatant violation of their editorial standards guidelines.
To recap:
Mr. Pogue was paid to speak for a seminar where he helped instruct publicists how to pitch him. This is not simpatico with the way the New York Times does things; their guidelines strictly forbid such engagements. Precedent? Thomas L. Friedman was once forced to return a $75,000 speaking fee. The Times called it a "misunderstanding." The difference between Messrs. Friedman and Pogue?
Mr. Pogue has something Mr. Friedman didn't at the time he had to return his speaking fee: an extensive laundry list of very public conflicted interests with regard to his writing for the Times, none of which have landed him in any more trouble than a severe ink-lashing from the paper's then-ombudsman. A spokeswoman for the Times told us yesterday that the they have yet to render a verdict on Mr. Pogue's fate, explaining that discussions with Mr. Pogue's editors were still "ongoing." As of this writing, that same spokeswoman told us these discussions were indeed still ongoing.
If the Times were to have to cast Mr. Pogue aside, not only would the loss would be immediately quantifiable—he has more Twitter followers than the entire Times technology reporting staff combined—but would present an opportunity to the paper's competitors (namely: the Wall Street Journal) who have the kinds of standards Mr. Pogue's other engagements wouldn't violate. The Journal, for example, kept former Hillary Clinton advisor Mark Penn on board even after his egregious conflicts-of-interest (drumming up business for his communications firm with advocacy in his columns) were called out by Gawker.com in 2009.
[Trivia: The spokesman who delivered the Journal's stance on Mark Penn's ethical brouhaha is Robert "The Bobster" Christie, who's now at the New York Times as the VP of Corporate Communications, and who has had to deal with more than one ethics question regarding David Pogue since he defected there last March.]
Meanwhile, Mark Ragan, the CEO of Ragan Communications—the company who produced the David Pogue broadcast in question—decided to comment on the matter in yesterday's post. Among other highlights, Mr. Ragan takes the time to note:
Never has the word 'scandal' been more overblown.

What David does that IS useful for PR people is dig out a few pitches that he finds clever. As a tech journalist,  he is forever approached by companies that have launched new gadgets. Most of those pitches are from PR people.  He is in a unique position to tell them how to stop bothering him and other journalists and do their job better.
That unique position, of course, being "poised to profit from doing so," something explicitly against the Times guidelines. For his part, Mr. Pogue has been quiet on the entire matter; outside of it, as well. The typically prolific Tweeter has updated his feed only four times over the last two days.
fkamer@observer.com | On Twitter