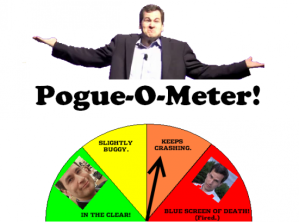 Another day, another…day David Pogue continues to wait on a decision about his employment at the New York Times.
As previously mentioned, David Pogue has had entanglements with the Times standards in the past; it's been two days, and still, no answer on the fate of the columnist over the recent revelation that he accepted a paid speaking gig for communications professionals, something strictly against the Times' rules. [Over the last two days, a spokeswoman from the New York Times has told the Observer that the issue is still being discussed with Mr. Pogue's editors. As of this post being published, today's call to said spokeswoman has yet to be returned. We will update if we hear from her. Again.]
Mr. Pogue is arguably one of the most popular personal technology columnists in the country, if not the most popular, and as far as technolgy writers go at the Times, brings to the paper an otherwise unrivaled audience.
Yesterday, we noted Mr. Pogue's Twitter feed had slowed down; last night, he revved the engine, as it were, and even struck out against a critic accusing him of being an Apple "fanboy." Mr. Pogue directed his online assailant to a page on his website specifically tailored to deflect critiques of being an "Apple" fanboy, which come in response to his often unrelenting praise of Apple products (and the fact that he authors a bestselling series on them as well).
fkamer@observer.com | @weareyourfek