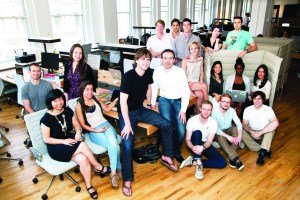 Carter Cleveland, the fresh-faced 24-year-old founder of Art.sy, a start-up that bills itself as the "Pandora for art," was talking about the art world's past attempts at embracing technology.
"It's like being in a movie," he said. "The knight is walking into the dragon's lair and seeing the corpses of all the other knights that came before."
The Observer was sitting with Mr. Cleveland in General Assembly, the "urban campus for entrepreneurs" that was filled with similarly enthusiastic young people, their faces lit by the glow of laptop screens. Mr. Cleveland, who graduated from Princeton with a degree in computer science, is the son of art historian and collector David Cleveland, who wrote the definitive text on tonalism, a style in 19th-century American painting. The younger Mr. Cleveland said he grew up in a house that was like a museum, then used another metaphor to describe the art world's earlier online forays: Vietnam's Battle of Hamburger Hill, which killed 72 American soldiers and served no strategical purpose.
Art.sy uses the same technology Joe Kennedy developed for Pandora to create its "art genome project." Visitors type an artist's name into a search engine and receive suggestions about similar artists. It goes from "very highbrow to very lowbrow," according to Art.sy C.O.O. Sebastian Cwilich, a former Christie's executive and former director of the Christie's-owned Haunch of Venison gallery. Suggestions range from artists influenced by the searched for-artist to artwork that has similar imagery (the example Mr. Cwilich gives is "pictures with cows in it"). From a tech perspective, Art.sy is highly sophisticated. Its staff includes both an art history Ph.D. and a web engineer with a Ph.D. in algorithms. The artworks on the site, which now number about 10,000, are culled from a network of participating galleries, including Gagosian, Acquavella and David Zwirner. If the site leads to a sale, Art.sy takes a 15 percent commission on the first $10,000 and 10 percent of anything beyond that.
"I saw sites like Pandora and Netflix using artificial-intelligence algorithms to create beautiful content—you know, film and music," Mr. Cleveland said. "And what's more beautiful than fine art? I didn't understand why more people weren't trying to use technology to help make the art world more accessible."
Art.sy is the latest in a batch of sites devoted to education and, eventually, buying. Gallerist James Cohan's VIP Art Fair launched the same January day as Google's Art Project. VIP's participating galleries included Gagosian, David Zwirner, Hauser & Wirth and White Cube; they paid up to $20,000 for a booth. When features of the site malfunctioned—notably its virtual chat feature—Mr. Cohan gave dealers a partial refund.
Paddle8, another art site, is in soft launch and will have a rotating pool of curators organizing exhibitions based on artworks from participating galleries like Elizabeth Dee, Andrew Kreps and Metro Pictures. Its strongest feature is its artist "dossiers," which provide the kind of comprehensive background information that is usually absent from group shows.
For purists, these new platforms are threatening: a collection isn't built by a machine. Whereas sites like 20×200 and ArtWeLove focused on making art more affordable, these new start-ups are more expansive. For many gallerists, the web is becoming the predominant way of expanding globally. Young collectors are looking online for ways to streamline starting a collection. This trend isn't going away.
Mr. Cwilich was demonstrating to The Observer how Art.sy works. "We think it's this amazing way for people to start in their pajamas at home and really be able to jump in saying, 'Well, I like Picasso,'" he said. "And from there saying, 'Ah, here are some works by Picasso.' Then you'd go a little further down and say, 'Ah, Picasso was a cubist. Here are works by other cubists.' And then you might see, 'Ah, here are people influenced by Picasso' and from there it really jumps off in different directions. You can see that Picasso influenced David Smith. So then I look up David Smith. Then you see that David Smith was part of the New York school. So someone who just looks up Picasso, who everyone knows, is kind of launched into the most important American artists of the past century."
When The Observer suggested Art.sy functions like a virtual art adviser, Mr. Cwilich insisted it's different: advisers are for people with "very large amounts of money to spend." Art.sy, whose weighty list of investors includes Josh Kushner—the brother of Jared Kushner, the owner of this newspaper—fashions itself as more of an educational tool; selling isn't the main goal.
"It's not going to breed the lateral thinking and crosscurrents of ideas that collections curated over time have," said the adviser Todd Levin, director of Levin Art Group. "It's going to create the kind of collection where you walk into peoples' houses and it's: There's my Prince, there's my Murakami, there's my Warhol."
Still, things are moving online. In 2010, 28 percent of the art sold through Christie's was purchased online via Christie's Live, a total of $114.4 million. (Sotheby's made its first venture into online auctions in 2000 but ended it in 2003, having lost the house $100 million; today, Sotheby's makes significant sales via online bidding.) And galleries' websites are a draw for potential customers.
"I'd be lucky if I got five people through the door on a given day," James Fuentes, the founder of the Lower East Side's James Fuentes LLC said. Mr. Fuentes is involved in VIP, Paddle8 and Art.sy (he actually made a sale through Paddle8). In the press surrounding these companies, he is often listed as the token "younger gallery." "More people know our program as an idea through our website than they actually physically know the space. That's just a fact."
"I think it's impossible to replace physically seeing the art," he added.
This is the biggest argument against these websites, and it has long been an issue; Andre Malraux's adage that an art book is a "museum without walls" displeased those who believed art must be seen in person. But the last thing young collectors intimidated by galleries want to do is show their uninformed faces in public.
"You don't want to look like some random guy on the street who doesn't know what things cost," said Geoffrey Lewis, a 25-year-old investment banker for Deutsche Bank who put his "reasonably high" income at over $100,000 a year. "You dance around the issue of price with gallery people. Then they finally tell you what it is, and you're sort of shocked. It's not like going into a car dealership where someone is all over you trying to make a sale; you have someone who is too cool for school who you don't want to ask too many questions."
Mr. Lewis is a member of Uprise Art, started by Tze Chun, a young Columbia graduate, to sell works by artists who don't yet have gallery representation. Members pay a monthly fee of $50 and pick from a pool of artworks, hang them on their walls, then swap them out for something else later. Mr. Lewis thinks Art.sy is "really, really cool."
In an effort to gauge the trend's coolness, The Observer visited the Greene Street offices of Paddle8. Its founder, Alexander Gilkes, former director of global marketing at auction house Phillips de Pury & Co. (and before that, director of communications at Krug Champagne), greeted us holding a thick blue notebook that had "Alexander's Thoughts and Scribbles" written across its cover. The day before, The Observer attended a party at SoHo restaurant Miss Lulu's to celebrate the upcoming launch of Paddle8's second exhibition. Glenn O'Brien, the exhibition's curator, commingled with Waris Ahluwalia and Richard Prince. They ate fried catfish with their hands while talking about the stress of Venice during the Biennale; they drank Krug Champagne.
"When this was attempted 10 years ago, it failed very spectacularly," Mr. Gilkes said back in his office. "You have to understand the Internet landscape evolved significantly with new technologies to allow this kind of new media, but [there's] also the generational question: 10 years ago, those who had the means to buy art were not an Internet-entrenched audience. And today, those who have the means to buy art, the 25-and-older audience, has been brought up on the Internet and has complete faith. Now is the right time to start digging our roots."
Mr. Cohan and the 41,000 visitors to his VIP Art Fair proved the art world was willing to try this new order.
"If you make more information accessible to a wider audience," he said, "you increase the size of the market and you enrich the potential of the market. It's the same buzz words all these other sites are using."
"So you're making the art world more democratic?" The Observer asked.
"The art world won't be entirely democratic ever," he responded.
mmiller@observer.com