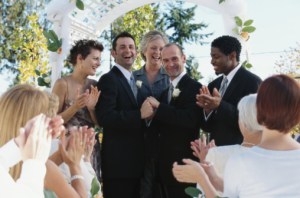 Last Friday night, a group of friends gathered at a bar in Bed-Stuy. There was laughter, there were stories, and there was wine. "A lot of wine," recounts local writer and director Bex Schwartz, laughing. And then someone checked his or her phone.
"We all went crazy when we got the text. We were all just like, Oh my god! I can't believe it's happening. It passed!" Ms. Schwartz enthused. Bex and her friends, perhaps slightly under the influence of a bottle or two of chardonnay, but mostly giddy with excitement over the news that had already sent New York into a frenzy of celebration, began to cook up a plan.
It was software developer Josh French who said "Let's find a way to do free weddings," said Ms. Schwartz, who became an ordained minister of the Universal Life Church in 2006. "That's how we came up with the crazy idea of a pop-up chapel."
The "crazy idea of a pop-up chapel" went from being a boozed stroke of brilliance to a fully formed project when Bex and Josh met the next day to work on their plan. The duo were joined by writers Tyler Coates and Lindsay Robertson, and Gothamist editor Jen Carlson, who together all started to bring the two friend's original idea into fruition.
Schwartz, French and company worked quickly to get the project off the ground. "We wanted to strike while the iron was hot," said Ms. Schwartz. The undertaking, now officially called the Pop-Up Chapel, began to take form almost immediately. Within days, the project had a website, a Facebook page and a Twitter account (91 likes and 92 followers, last we checked). The Chapel is slated to "pop-up" in Central Park on Saturday, July 30th; one month after Cuomo signed the historic piece of New York legislation and the first weekend same-sex marriage will officially be legal in the state.
Ms. Schwartz explains that the event has been planned for the 30th (as opposed to July 24th, exactly one month to the day of the marriage equality vote) because "We want to give people time to get licenses. We know city hall will be swamped!"
According to their Facebook page, the Chapel promises to wed "…anyone who wants to get married, on the first weekend the same-sex marriage law takes effect." Bex estimates that, with five wedding ceremonies happening simultaneously, they will be able to facilitate between thirty and forty weddings on the 30th. All ceremonies are non-denominational (the term "Chapel" is something of a misnomer), are slated to last about a half and hour, and will be customized to each individual couple.
In order to be the lucky recipient of a pop-up wedding, husbands and brides to-be must reserve a slot ahead of time, either via e-mail (info@popupchapel.com) or through contacting one of the organizers directly. Thus far, eleven couples have already reserved spaces for the big weekend in July.
"I'm just so blown away by New York City right now, by the incredible outpouring of support we've received," gushed Ms. Schwartz, who stated that both friends and strangers have come out of the woodwork to offer photography services, freshly baked cupcakes and volunteered time for the day of the ceremonies.
"This is the most beautiful thing about New York right now," commented Bex about the newly passed legislature. "We thought, what could we possibly do to celebrate this?"
"We want to make sure everyone has the most beautiful wedding possible."