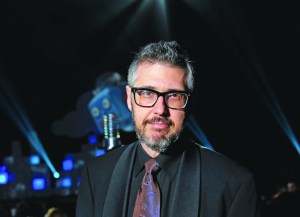 "The way I see it, the Webbys is 43 percent good, 57 percent corporate sponsorship. But I might have the percentage off," Ira Glass told the Transom from the makeshift red carpet outside Hammerstein Ballroom. "It's like some digital ad agency who did a commercial for Dentyne and wants an award."
Behind the This American Life host, the blonde in sherbet-color Herve Leger bandage dress who was hosting the coverage streaming on Facebook held a microphone in one hand and fluffed her curls with the other. Piqued by all the photogs, a passerby on 34th Street asked what was going on. "The Webbys," said a reporter. "So something with the Internet?" The reporter nodded and turned back to the line.
Now in its 15th year, the Webbys, which cap off the end of party-hardy Internet Week, seemed like more of an excuse to rewatch viral videos (oh, hey there, Antoine Dodson) and gawk at tangentially related celebrities (Webby host Lisa Kudrow explained her presence on stage by pointing to her new online series, Web Therapy) than anything truly geeky. Anna Wintour, Joe Jonas and Brooke Shields, whose husband, Chris Henchy, was there to accept an award for Funny or Die, all breezed past the sans-camera press line with nary a word. Ms. Wintour, who won a Webby for Vogue.com, eventually dignified the room full of technophiles with a five-word acceptance speech, nudging a camera aside on her way to the podium to accept: "Sometimes … geeks can be chic." The audience cheered. Someone screamed from the balcony: "Yay, Anna!"
Did Mr. Glass think techies resented the intrusion of boldfaced names? "Well, I think the nerds always like to be near the famous people," he said, setting the Transom straight. Indeed, there was Adrian Grenier, who won two Webby awards for his sustainable lifestyle site Shft.com. Mr. Grenier seemed to have caught the promotional fever. "We're nudging into culture sustainable ideas," he said. "We actually just did a sale on Gilt.com. A sustainably curated sale." The Transom remained skeptical as to how discounted luxury items could spur mass adoption. "Well, a lot of it's aspirational as well," explained Mr. Grenier.
Inside the ballroom, the night mimicked your typical awards show affair. There was the awkward banter (Marlon Wayans trying to start a Twitter trending topic under the hashtag #geeksitcoms. "My Name Is URL. U-R-L. Get it?"), the fleeting somber nod to turmoil overseas (Christiane Amanpour bestowing a "special recognition winners" to a pair of Egyptian activists for "the progress of Internet activism") and no shortage of Weiner jokes.
Mr. Glass was there to present an award to Dan Savage for starting the "It Gets Better" video series for gay teens. After a screening of Google's supercut of the clips, Mr. Glass quipped, "You can tell something's really amazing when even the Google Chrome commercial about it makes you want to cry." Stepping up to the podium, Mr. Savage, who wore a "Google Santorum" bumper sticker across his T-shirt, stuck to the five-word minimum on acceptance speeches, "Tracy Morgan can suck my … "