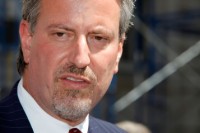 On a recent Tuesday afternoon, outside a firehouse on the north shore of Staten Island, Bill de Blasio slipped between a throng of sweaty, angry protesters and was quickly ushered to a microphone stand.
"This mayor loves to brag how devoted he is to the numbers," said Mr. de Blasio. "This is the fastest growing borough, and this borough needs more fire protection, not less. And the numbers show it."
The crowd of more than 200 cheered. They had rallied in front of the 105-year-old, redbrick building that houses one of 20 fire companies slated to close as part of Mayor Michael Bloomberg's proposed budget cuts.
"The mayor is saying to some parts of this city, 'You're going to be less safe,' and somehow, you're supposed to grin and bear it," said Mr. de Blasio. "That's not right and that's not how a democracy works. That's not the city government doing its job."
Over the past two years, Mr. de Blasio has tried to make the most of his own job as the city's public advocate—a loosely defined, barely funded perch that seems to exist primarily as a bullhorn for citizen complaints.
"My view at this moment is, this is exactly what the office was meant to do," he told The Observer in a phone call late on Friday afternoon.
In recent weeks, Mr. de Blasio has emerged as the most visible critic of Mr. Bloomberg among those who might be jockeying to replace him. City Council Speaker Quinn has generally shunned protests in favor of direct negotiations with Mr. Bloomberg. City Comptroller John Liu has taken a more wonky approach to his job, issuing a steady stream of reports, and Congressman Anthony Weiner has mostly stuck to the impact of federal cuts as they relate to the city.
"I think this mayor in particular understands relative silence as assent," said Mr. de Blasio. "A lot of times that has not been the case, although that's how he likes to interpret it. So, I think it's really important and for the record to show that people are not comfortable with these choices and it will have a very big impact on their lives."
"You know," Mr. de Blasio continued, unprompted, "most people who have become mayor have come up from the grass roots and through a variety of offices and have a natural understanding of what some of these actions do to people and mean for people. I don't think this mayor has that."
By his own account, Mr. de Blasio does.
One year after managing Hillary Clinton's Senate campaign in 2000, Mr. de Blasio was knocking on doors in Park Slope, campaigning to become their councilman. ("Don't forget the school board," he noted, of his pre-Council public service. "One of the finest unpaid offices around.")
For eight years on the City Council, Mr. de Blasio demonstrated a penchant for gathering loud swaths of the city to voice their displeasure with decisions being made inside City Hall. In 2003, the first time Mr. Bloomberg proposed a major round of firehouse closures, Mr. de Blasio threw his 6-foot-5 frame to the forefront of the debate.
He got arrested protesting the cuts, along with his neighbor, the actor Steve Buscemi. ("He lives about five or six blocks away from me," said Mr. de Blasio. "We bonded when we got arrested together.")
This year, Mr. de Blasio is finding less arresting ways to voice his opposition. He helped organize a march across the Brooklyn Bridge this week to protest firehouse closures. Already, he's visited a number of them, appearing with defiant Council members, angry union members and outraged residents.
Then there are the schools, where Mr. Bloomberg's budget proposes laying off 4,100 teachers. Mr. de Blasio set up a phone line where anyone with an opinion can leave a voice message about the mayor's proposed cuts, then hear it posted on Mr. de Blasio's website. Last week, he staged a Parent Day of Action at schools across all five boroughs.
All of which appears to have gotten underneath the administration's skin.
Earlier this month, Mr. de Blasio and Deputy Mayor Howard Wolfson engaged in a protracted argument on Twitter, with Mr. Wolfson saying the public advocate "remained silent in the face of massive ed cuts" in the state budget.
The two are old friends, dating back to their days working on Ms. Clinton's Senate race, when Mr. de Blasio served as the campaign manager and Mr. Wolfson was the spokesman.
"You are our advocate," Mr. Wolfson wrote. "Needed your advocacy in Albany at budget time—perhaps your advocacy then could have helped averted [sic] cuts."
The two met for lunch at Nobu and the bickering ceased, if not the debate.
"Bill has been my friend for more than a decade," Mr. Wolfson told The Observer in an email. "And we agreed to continue to disagree. I think he would have more credibility now if he had been vocal in fighting state cuts."
The administration's position is—more or less—that the person to blame for the city's deep cuts is Governor Andrew Cuomo, who greatly decreased funding to New York City as part of an austere state budget that sought to close a $10 billion deficit.
Mr. Bloomberg called the cuts to New York City "an outrage," and liberal activists descended on Albany in protest.
Mr. de Blasio was not among them.
"I think a lot of what the governor has done was really important and necessary, showing that we could exercise restraint and think about the concerns of taxpayers while at the same time fulfilling the obligations of the government," said Mr. de Blasio.
"I didn't want the outcome we got," he said on Tuesday. "Wish we had gotten more. But the bottom line is the governor had to balance an extremely difficult budget and that was in everybody's interest, including the future of New York City. So, I just think Wolfson's response misses that larger point."
Mr. de Blasio and Mr. Cuomo are longtime allies. Before he worked for Ms. Clinton, Mr. de Blasio served under Mr. Cuomo in the Department of Housing and Urban Development during the Clinton administration, and the public advocate aggressively promoted Mr. Cuomo's campaign for governor last year.
"You're not going to see Bill de Blasio running around saying, 'Hey look, why don't you send us some more money, Mr. Governor,'" said Hank Sheinkopf, the longtime Democratic strategist who worked on Mr. Bloomberg's most recent re-election campaign and was speaking from a beach on Memorial Day.
"The politics of this is: Albany, the governor, have decided we're not getting the kind of money we used to get," said Mr. Sheinkopf. "Therefore you got to cut someplace. And the best thing to do, if you're going to help your political allies, is to blame Mike Bloomberg, even though he's not responsible."
But, in Mr. de Blasio's view, the cuts forced onto the city could be handled more sensitively.
"I laid out a series of alternative cuts I thought made a lot more sense," he said. Those include reductions in teacher recruitment efforts—about $25 million—and scaling back outside consultants and technological work, some of which is "futuristic, but not as important as a classroom teacher."
Mr. de Blasio suggested there were "less essential pieces" that could be trimmed from the budget before laying off teachers, calling the fight "somewhat ideological."
"It's not that the mayor and his people couldn't find the money in the city budget; it was a choice," Mr. de Blasio said. "And we have to portray it as such. It's not about fiscal responsibility. It's about philosophy."
Whether Mr. de Blasio's noisemaking will have any tangible effect on the city's budget is a matter of some disagreement.
Mark Green, the city's first public advocate—who frequently tangled with Mayor Rudy Giuliani over budget cuts and has subsequently run for office against both Mr. Bloomberg and Mr. de Blasio—said all the haranguing by Mr. de Blasio is late, and not entirely substantive.
"A public advocate should ideally either analytically expose bad policies or propose thoughtful alternatives," said Mr. Green. "Protest letters and rallies taste great but are not very filling."
apaybarah@observer.com