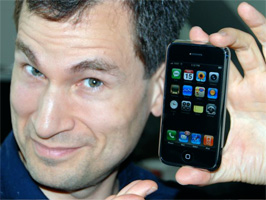 In a May 26 video for the New York Times, David Pogue, the paper's unmistakably cherub-cheeked, middle-aged tech writer—one of the most widely read in the country, if not the world—rushed into a room wearing a doctor's uniform, stethoscope dangling around his neck, shouting at a portly man resting in a hospital bed.
"Stand back! I'm here!"
As it turned out, "Doctor" Pogue was there as a representative of the "Industry Rescue Service" and his bedridden patient was "AM/FM." Mr. Pogue vamped surprise, pieced the situation together out loud—the patient was a metaphor for the dying radio industry—then whipped out a laptop, and "prescribed" his "patient" an online radio site.
The video was typical of Mr. Pogue's style: folksy and accessible, relentlessly service-oriented and generalized. More than anything, it was goofy and affable.
"We're talking about a guy who was trained as a pianist and a magician," said Jeff Yablon, a tech writer who met Mr. Pogue in the early 90's, when Mr. Yablon was the president of the Computer Press Association and Mr. Pogue's writing career was still in its earliest stages.
Mr. Pogue's entertaining tech coverage has conjured a massive and devoted following, but his greatest trick might be convincing the stately Times not to make him disappear—despite raising some of the more thorny conflict-of-interest questions the paper has confronted in recent years.
Mr. Pogue has been accused of being an insidious shill for one of the most powerful technology companies on the planet, Apple, and was reported to be dating a publicist who represents many of the same companies he covers for the Times.
Seven days prior to the video's release, Mr. Pogue and his estranged wife were each charged with disorderly conduct by police in Westport, Conn., after he allegedly hit her with—what else?—an iPhone.
In the video, the bite mark he reportedly received on his arm during the incident had apparently healed, or was well-concealed. It wasn't noticeable. Not a single scratch.
If anything, it was classic David Pogue.