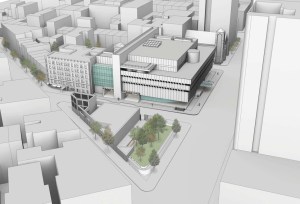 Back in March, Rudin Management announced it had reached a deal with Long Island-LIU to open up an urgent care center in part of the old St. Vincent's hospital in Greenwich Village. This would allow the powerful developer to continue with plans to build luxury condos in place of much of the old hospital as well as returning medical care to the neighborhood. Many locals were unsatisfied, since they would not be getting a full-fledged hospital, but the main opposition group has just dropped its legal appeal to the deal, meaning it can go ahead.
"We believe it's probably the best situation, and allows the transaction to go forward," a St. Vincent's spokesman told Crain's.
Back when the deal was announced, there was talk of another major developer taking over the project, at least according to the opposition, but this white knight never trotted onto Seventh Avenue, and this appears to have driven the decision to back down from the legal challenge. The NFL, one possible St. Vincent's suitor, punted on the project, as well, according to Crain's.
The business weekly also reports that part of the reason for the challenge was one of the appellants was a doctor currently working in the O'Toole Building, the saw-toothed 1960s building that will be resurrected as the urgent care hub. He did not want to move out, but the St. Vincent's estate is now preparing to evict him. Talk about bad blood.
CORRECTION: A previous version of this article stated that North Shore-LIJ was evicting the hospital, not St. Vincent's.