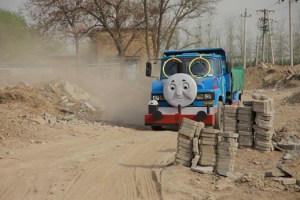 In the 19th  century, Great Britain used gunboats to address its trade imbalance with China. It must have seemed clear enough who was doing what to whom. But in the 21st century, things are more complicated. The gunboats remain ready, but the more visible weapons—if they are weapons—have so far been children's television characters. In "Play Time," her fourth solo show at Lombard-Freid, the Cantonese, Beijing-based artist Cao Fei describes, with two videos, a small installation, and a series of photographs, whats being done. If she doesn't make clear exactly who's doing it, she does make clear just how unclear it is.
One video begins with a dump truck driving down a tree-lined avenue, past purple fields. Mounted over the truck's grill is a huge image of Thomas the Tank Engine, the lead character of an animated program that was adapted for British television from a popular children's book in the 1980s and has been showing in China since 2008. A gang of women clean and polish the windshield and fenders. When Thomas stops to let his driver ask for directions, children assemble. A small boy stares coolly through black sunglasses; an excited young mother tells her reticent son, "Point at the car and say Thomas."
Thomas continues on to a construction site, where his driver changes a tire, and a gang of dusty workers fills him up with debris. A brief shot of Thomas's patient, pensive, frowning face is the linchpin of the video: Thomas may be a cartoon train engine, but he knows what he's doing.
And yet, he's still a cartoon train engine, and that's what makes everything so maddeningly fascinating. Cheery music begins to play as Thomas leaves the construction site and joins thousands of middle-class cars on a Beijing highway. He changes lanes. Other drivers smile. He passes the Bird's Nest, the beautiful, futuristic stadium designed by Swiss architects Herzog & de Meuron in consultation with currently-imprisoned Chinese artist Ai Wei Wei. When he stops for gas at a Sinopec station, we glimpse two different pairs of McDonald's golden arches. More smiling fans. "Who is Thomas always together with?" an excited mother asks her bashful son; a little girl loudly declares, "Thomas isn't often so upstanding." The numbers on the pump flash rapidly as Thomas fills up with gas. Workers in matching blue uniforms crowd together for a picture.
On an even prettier tree-lined street, Thomas is stopped by a policeman, who angrily tells Thomas's driver that trucks aren't allowed there. "Hurry up and leave," he says. The driver stops outside a cheap restaurant to lean against the fender with a styrofoam container of rice. A chef comes out to deliver a couple of skewers of meat. Then it's time to drive again. Thomas's very big day finally finishes when he arrives at an otherworldly brown landscape, with a mist-obscured stupa in the background, ready to dump his load, sleep a good night's sleep, and do it all again the next day.
Things move quickly. Ms. Cao was introduced to Thomas the Tank Engine by her first son, who was born in 2009 and is already a fan. The video's title, East Wind, is also a translation of the brand name of its truck, Dong Feng. Dong Feng was founded in 1969 as part of Mao's deterrent strategy of building up an industrial base in Western China. "East wind," said Mao, "prevails over west wind," but the interesting thing about wind is that it's not something you can ever quite put your finger on.
All in all, it's nice to have a job, even if it means being posted abroad. But the plush CBeebies, descendants of the Teletubbies, represent the other side of the equation, having become displaced persons. The fourteen crisp and lovely c-prints of Ms. Cao's PostGarden series follow them as they wander through the alternately lush and bleak landscapes of modern China. In Back to the Garden, Makka Pakka sprawls in a field of wildflowers with a guitar, while Igglebiggle and Upsy Daisy gaze into the future and the Tombliboos frolic behind. There's a kind of shock of the real as you approach this photo, so silly and fantastical, and realize that you can make out individual purple blossoms around Makka Pakka's white legs. In Twilight, Igglebiggle sprawls in the dirt of a misty, refuse-strewn forest, with Upsy Daisy, exhausted, lying across his legs.
The rest of the photos are arranged in pairs for a game of "spot the differences." In After a Long Day, the CBeebies are wrapped in blankets, squatting under an elevated highway. In the left-hand photo, one of the Tombliboos has a rubber chicken on a stick; in the right-hand photo, he's only got the stick. In Papa's Funeral, Tombliboos hold Igglebiggle in a stretcher while Makka Pakka and Upsy Daisy dig a grave. Igglebiggle holds a red handkerchief that might be a flag in one version of the photo; in the other, it's gone.
Play Time Fingerboard Park Installation is a tabletop wooden construction of denatured architectural signifiers. The "fingerboards," little toy skateboards, are too big for the ramps, spirals, and ziggurats ostensibly designed for their pleasure. This is as silly as it is cerebral, as ironic as it is literal. It manages to be cheerful without being optimistic. In a way what Ms. Cao is saying is, "What can you say?" But if you live in 2011, you look at all of this, and you know what it means.
editorial@observer.com