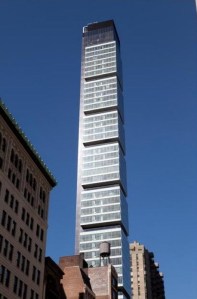 In the real estate equivalent of Mariano Rivera parachuting into a tight ninth inning, Steve Ross has just made a play for troubled tower 1 Madison Park.
Mid-tier developer Ziel Feldman is just days away from presenting his rescue plan for the beautiful though far-from-perfect condo. But now The Wall Street Journal reports that Mr. Ross' Related has made a sudden play with junior lender Amalgamated Bank to buy the debt held by iStar and seize control of the tower.
The plans came to light in a lawsuit filed by Mr. Feldman's HFZ Capital on Monday, accusing Amalgamated of "attempting to swindle a lucrative corporate opportunity."
A spokeswoman for HFZ said the company still intends to submit its plans to the court, but our favorite summer spectator sport just got a lot more interesting.