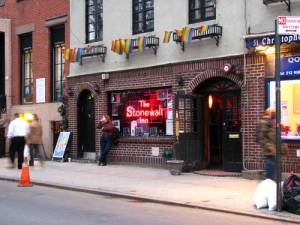 On Friday night The Observer was reffing an intense game of foosball at a West Village dive when New York legalized gay marriage. Seeing the news on a fuzzy barroom TV we decided to go outside and take a look for ourselves.  Pushing open the pub door, The Observer immediately heard cheers coming from the street.
We soon realized we were a block away from the Stonewall Inn.  Hundreds of people had already gathered around the bar, a pilgrimage site since the 1969 Stonewall riots sparked the first fevered moment for gay rights.  Stepping through a police fence, we wiggled and wove our way toward the front of the Inn. The atmosphere was nothing short of exuberant— couples kissed and sang spontaneous renditions of "Going to the Chapel," each chorus louder than the last.  Every few minutes a pair would rush by yelling "We're engaged!!"   Cameras flashed by the hundreds each hoping to snap the night's iconic image.
Inching closer to the entrance we soon realized the door was being manned by one brave soul.  He was trying to maintain some semblance of order as guests found themselves gridlocked, some stuck trying to get in, others unable to leave. On perhaps any other night New Yorkers would have grumbled, groaned and cursed the crowd control. The celebratory atmosphere prevailed, however, and the throng managed to stomach their bellyaches, smiling as they did so. How civilized!
Fortunately, The Observer found there was indeed room—well, standing room— at the Inn when we reached the threshold. Inside the Stonewall looked like a fabulously gay frat house. A layer of overturned beer bottles and empty glasses coated the bar.  Bartenders scurried around hauling cases of beer and frantically collecting discarded cups. Revelers chatted beneath an assemblage of rainbow streamers while a lone dancer stood off to the side behind a velvet rope, proudly brandishing his assets in a mesh thong.
We ventured upstairs where guests stood on the sofas bouncing and gyrating to, what else, Lady Gaga.   Peeking out of the second floor window we could see the droves of people congregating outside the Stonewall and as more and more party-goers made their way upstairs, we decided to bid adieu to the Inn.
We pushed our way outside and moved through the rowdy, happy crowd.  Gays celebrated their hard won victory outside the fateful battle site and their heterosexual peers gawked, smiled and soaked in the historic moment. We turned around to catch a final glimpse of the Stonewall Inn but our view was obscured by rainbow flags and flocks of proud New Yorkers.