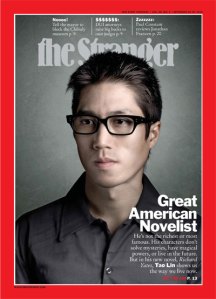 Earlier, we wrote about Christopher Frizzelle's column for The Stranger,  "Confronting Tao Lin's Publisher, Part One." In his column, Mr. Frizzelle writes of a rumored conflict between Tao Lin and his publisher, Melville House, over the ages of the characters Dakota Fanning and Haley Joe Osment in Mr. Lin's novel Richard Yates. The relationship between the 16-year-old and the 22-year-old might qualify as statutory rape in certain states, though probably not in a novel.
"Why would you publish a work and then spend your energy undermining the writer's confidence in the worthiness of that very work, so much so that you end up not speaking to each other?" asked Mr. Frizzelle in his confrontation.
Mr. Lin has responded to our inquiry into the matter:
I'm happy with Melville House and don't feel there's a dispute. I feel that Christopher is interested in an earnest discussion about the relationship in RICHARD YATES, which I would be interested in also. I think he's editor-in-chief now of The Stranger.
Mr. Frizzelle is indeed editor of The Stranger and not merely, as we previously called him, its books columnist. He does, however, contribute to "Nightstand," a column on books.