Back in the 1970s, Tribeca's Belgian-block streets were chock-a-block with artists, and that's about it. Nowadays, the only artists in the city's most expensive neighborhood are those financial wizards who have made an art out of making money. There is, though, the occasional auteur, like Danny Masterson, the actor/DJ/child model/Scientologist.
Four years into his run as Hyde on That '70s Show, Mr. Masterson purchased a penthouse at 19 Warren Street, paying $1.43 million in November 2002. He has now sold his lofty triplex for $3.19 million, according to city records.
The 25-foot-wide limestone warehouse is a block from City Hall. The condo features a winding staircase that connects a large kitchen and dining room to a skylit living room above and a crow's nest of a guest bedroom that comprises the entire top floor.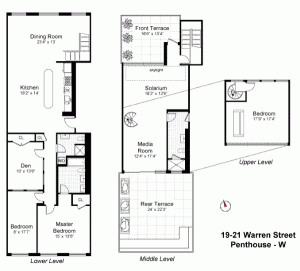 "Exposed brick walls, 18' glass solarium great room, media room with built-in speaker surround sound, skylights, and two unbelievable terraces with south and north exposures," declares Darren Kearns in his Corcoran listing.
The buyers are David and Laura Busker.
Along with all his other interests—poker, restaurants, Bijou Phillips—Mr. Masterson has a thing for trading real estate. In 2007, he sold a fancy house in L.A., the same year he started a condo project there that later ran afoul of the law.
Our real question is whether he will be updating his Twitter account, which currently lists his location as "tribeca.E hollywood.park city."
Read past Manhattan Transfers here. >>