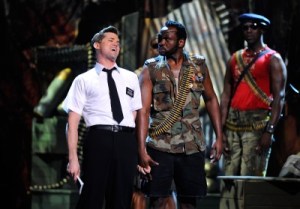 The Tonys—theater's annual celebration of its most glamorous, high-flying self—is underway. Keep refreshing for updates on The Book of Mormon's trophy tally, Spider-Man: Turn Off the Dark performance, Neil Patrick Harris's hosting duties, and (naturally) all the other winners and losers.
7:56pm. The pre-show advertising mentions only Neil Patrick Harris, Daniel Radcliffe (notably not nominated this year), Jim Parsons (of CBS's Big Bang Theory), and Al Pacino. Notable a year after the starpocalypse that was last year's Tonys—which annoyed the Broadway community. What, Sutton Foster isn't a ratings draw?
8:00pm. "I'm teen heartthrob Neil Patrick Harris." Oh, mercy, here comes the obligatory pro-Broadway boosterish number.
8:01pm. "It's not just for gays anymore," goes the opening number. In the year that included Priscilla, Queen of the Desert?
8:02pm. I guess Mr. Harris can get away with this? Sure, okay!
8:03pm. Naturally, Broadway icon Stephen Colbert is in the opening number. Oh, a Joe Mantello joke—not insidery at all! Brooke Shields screws up her part of the opening number twice. Hm, does this bode well for her role in The Addams Family?
8:04pm. First Motherfucker With the Hat censorship comes two minutes after first Mormon reference, thirty seconds before first Spider-Man budget joke.
8:06pm. "We are live on Broadway from the Beacon Theatre!" Well, on Broadway-esque. (It's on 74th.)
8:10pm. Ellen Barkin wins Best Featured Actress in a Play for The Normal Heart. Big win for the show—and, incidentally, for the sort of Hollywood actress we thought Broadway swore off honoring after Scarlett Johansson won this very category last year! "It taught me something that I never believed in," said Ms. Barkin of the show. "That one person can make a difference." She thanked Larry Kramer in particular for his "war" against AIDS.
8:13pm. Ms. Barkin's pretty eloquent—and this show is shy about putting on the "please wrap up" music. Hollywood time—she thanks her agency (CAA, if you were wondering!)
8:14pm. Two past How to Succeed in Business… leads, Robert Morse and Matthew Broderick, are presenting that show's musical number. Mr. Morse boldly went with bangs tonight!
8:15pm. The Tonys equivalent of seeing who gets the loudest applause during in "In Memoriam" just happened: "Daniel Radcliffe" got way more rousing applause during the presentation of this number than did "Tony nominee John Larroquette."
8:17pm. Nice choreography! Too bad this show already lost Best Choreography to Anything Goes.
8:18pm. The Beacon Theatre's giant polygonal lighting units onstage are rather distracting. Though one imagines that they serve this period piece well?
8:21pm. Unlike the Oscars, the Tonys allow advertising from nominated plays during the show (it would seem!). Download the Book of Mormon cast album, all!
8:22pm. Our correspondent at the Beacon, Brionna Jimerson, tells us that Kelsey Grammer raved to reporters about his new girlfriend. "He's really in love—or else a good actor!," she writes. Well, he hasn't won a Tony yet! (This time last year, Mr. Grammer dragged his wife to the Tonys right before their divorce, if her account on The Real Housewives of Beverly Hills was to be believed.)
8:24pm. Earlier tonight, not on television, The Book of Mormon won Best Score! One would imagine that a Parker-Stone acceptance speech would have been a hit with crossover viewers?
8:25pm. More of a hit than an Equus joke, I'd imagine?
8:28pm. John Leguizamo claims he lost every Tony awards for which he was ever nominated. Hard to imagine why! This personal slideshow with a ramble attached about his self-abuse habits is going great.
8:29pm. Observer intern Kara Bloomgarden-Smoke tells us that taxi ads for Mr. Leguizamo's Ghetto Klown tell taxi riders "Broadway is no longer the great white way." Why, after what we just saw, that's the second-most compelling ad for Ghetto Klown ever!
8:31pm. Best Featured Actor in a play goes to John Benjamin Hickey for The Normal Heart—which goes two for two of the awards presented on-air! (It's too bad we get to see musical numbers ad infinitum but not a moment of the play.)
8:32pm. Joan Rivers moment: Viola Davis, a presenter tonight, looks just great. Mr. Hickey made an NBA Finals joke!
8:33pm. So that's how you pronounce Aaron Tveit.
8:34pm. This musical number is yet more blatant a "come-see-our-show" ad than was John Leguizamo's speech. Does anyone in America not have a basic idea of the plot of the Spielberg movie?
8:35pm. As a theatrical number, Catch Me If You Can was a great movie. Poor Aaron Tveit got to sing like four bars! No nomination, we know, but he's a pretty appealing face for the show.
8:43pm. Neil Patrick Harris's Spider-Man jokes were significantly more toothless than the roast-style presentation. Best one was the last one: "I sent Bono a celebratory cable, but it snapped."
8:45pm. Presenter David Hyde Pierce plugs his upcoming directorial debut. Best Direction of a Musical goes to Book of Mormon. Trey Parker's sparkling ascot is a step down from his Oscars dress, that time. After a rough winter in which he lost the Oscar to his arch-rival, Book of Mormon producer Scott Rudin looks like the cat who ate the canary.
8:47pm. War Horse wins Best Direction of a play. If there was one trophy this tribute to gigantism could win, it'd be this one!
8:50pm. Don Cheadle presents the number from The Scottsboro Boys. The tour is upcoming, he says—how will this number play in Peoria?
8:52pm. Just after Best Direction went to a show with giant horse puppets comes a number in which scattered lumber stands in for a train. Not judging, just observing!
8:57pm. Observer theater critic Jesse Oxfeld drops in via text to tell us that he's impressed that the Tonys finally gave up on pretending the rest of the country cares about what's going on (we'd more or less agree—does anyone not in theater or media really care about Spider-Man, let alone Equus?). "Very haimische," he texts.
8:59pm. In the house: Angela Lansbury!
9:00pm. Angela Lansbury carried black index cards onstage in order to read her lines, but she manages not to stumble—unlike certain Brooke Shieldses we could mention.
9:01pm. Harry Connick, Jr. presents Best Actress in a Featured Role in a Musical to Nikki M. James for The Book of Mormon—and the lady looks surprised, despite the fact that she's part of a juggernaut (maybe she never thought she'd beat Patti LuPone? Fair assumption…) "Tony, come on over, live with me!" we think she said? Guess she really is in shock. (Not in shock: Scott Rudin, it would seem.)
9:04pm. "I come from a long line of bumblebees." Nikki M. James wins Most Actressy of the evening, narrowly beating out historic CAA-thanker Ellen Barkin!
9:05pm. Just Andrew Rannells—no, it would seem, Josh Gad—performing for Book of Mormon, though both are nominated for Best Actor. Someday an awards show will see a competitive sing-off as good as Beyoncé vs. Jennifer Hudson from the 2007 Oscars. That day has not yet come.
9:07pm. No censor-tempting here, it would seem—this is actually a pretty earnest number with little to no detectable subversive humor! (Okay, a little subversive humor.)
9:09pm. Okay, never mind, the number took a turn with some racial humor!
9:15pm. Breaking race-relations-musical update: The Book of Mormon's nominee Rory O'Malley told our Brionna Jimerson that The Scottsboro Boys cast "would win" in a fight against the his own cast.
9:17pm. Hugh Jackman's entire career in 2011 is joking about how, in the past, he hosted awards shows, which is somehow yet sadder than Neil Patrick Harris's entire career of hosting awards shows.
9:18pm. This is so inside-baseball that we've given up caring—much as when Hugh Jackman did this same number with Anne Hathaway at the Oscars this year.
9:20pm. Brooke Shields just got bleeped after (inadvertently, it would seem) cursing. "I can do eight shows a week," she says. But those eight shows were Chicago, so, you know. Grain of salt.
9:22pm. John Larroquette wins Best Featured Actor, Musical for How to Succeed in Business Without Really Trying. Gives special thanks to Mr. Radcliffe, without whom "I would be home, watching this in my underwear."
9:23pm. The orchestra plays "Vertigo" as Bono and The Edge enter. "When I used to see 'Tony Awards' on our schedule," says the ever-humble Bono, "I used to assume we'd be nominated." He makes a Harold Camping joke and—ooh!—a New York Post joke. (For more on Spider-Man vs. the Post, see Wednesday's issue of the Observer.)
9:26pm. The Spider-Man number highlights some of the show's book, which is certainly a risky choice.
9:27pm. "The sky tonight is luminous / for some unknown reason." See you at the 2012 Tonys, Bono!
9:30pm. All joking aside—that number played it very safe, which is probably a good decision for the Spider-Man producers after all the negative buzz they endured.
9:36pm. I love the part of the Tonys where we see still photographs of each nominated straight play!
9:38pm. Robin Williams makes a Muammar Qaddafi joke and a gay joke that actually quite worked. And a Spider-Man joke that felt a bit easy, just like Mr. Harris's (is there an original one left? Spider-Man's past injuries are the Broadway equivalent of Anthony Weiner's last name). Anyway, The Book of Mormon wins for Best, er, Book.
9:40pm. When the announcer mentions an "Emmy, Grammy, Oscar, and Tony-winner," one intuitively yearns for Liza Minnelli. Whoopi Goldberg in a dented witch hat is cold comfort.
9:42pm. Between Book of Mormon and Sister Act, a sub-theme of the evening: non-believers professing religious ecstasy.
9:44pm. Leaving Sister Act behind, The Book of Mormon's Nikki M. James just told the media room that The Book of Mormon was a boys' club and that "after a while, I was farting with them too!" South Park's malign influence ruins another gastroenterological tract.
9:51pm. More still photos of plays, and, in a nod to Billy Crystal's hosting strategies of yore, Neil Patrick Harris rides out on the War Horse.
9:53pm. Patrick Wilson just seems so likable, no? He presents Best Revival to, unshockingly, The Normal Heart. Daryl Roth accepts as producer. Larry Kramer takes the stage with her. "It is the ultimate love story," says Ms. Roth of Mr. Kramer's play. Mr. Kramer thanks everyone involved in the production as well as telling "gay people everywhere, whom I love so—The Normal Heart is our history."
9:56pm. Last year's Best Musical Memphis performs again. We're going to put it on mute and relive our own favorite Tonys moment, Phylicia Rashad's acceptance speech for Best Actress. (Did she say that she herself has "amazing grace"? Count the pregnant pauses!)
10:05pm. Best Play presentation (before Best Actor for a Play, it would seem? Okay!)
10:06pm. The Tonys' chosen appellation for Chris Rock's play, The Mother With the Hat, is the perfect title for a one-act about Whoopi Goldberg getting dressed, tonight. War Horse won, because sure.
10:09pm. Joel Grey! Whatta gent. He's presenting the musical number from Anything Goes.
10:10pm: Sutton Foster, signing: "When authors who could once do better / Now use words with four letters when writing prose." Gauntlet thrown, Motherfucker With the Hat.
10:11pm. Tappa tappa tappa! Guess that's why this won Best Choreography.
10:19pm. Vanessa Redgrave, in modified menswear, looks smashing as well. She and James Earl Jones merit a standing ovation.
10:21pm. One always forgets about the tribute to all the non-nominated plays.
10:22pm. And now Christie Brinkley—soon to make her Broadway debut in, of all things, Chicago! She told our correspondent at the Beacon that she was worried she dressed as though for a prom. She wasn't wrong!
10:24pm. There's simply not much to say about this number from Company!
10:26pm. Well, there is the fact that it's odd to see so many big TV stars take an ensemble role.
10:27pm. Our correspondent at the Beacon's media room tells us that the P.R. girls are smoking in the bathroom, and that the smell of Bengay fills the air.
10:28pm. Anything Goes wins best revival of a musical.
10:29pm. Tyne Daly presents the "In Memoriam" segment—one which specially highlights Arthur Lawrents, who wrote West Side Story and Gypsy.
10:31pm. We hadn't known Elizabeth Taylor was a Tony nominee. She's quite diplomatically placed in the middle of the presentation.
10:39pm. Frances McDormand, wearing a jean jacket, accepts a Tony for her entire company, which she lists to a one, including "myself."
10:40pm. "I have played O'Neill, I have played Racine. I have played Stella and Blanche, and all three of Chekhov's three sisters." —Frances McDormand, who doesn't care enough about awards to not wear a jean jacket.
10:41pm. Sutton Foster wins a second Tony, for Anything Goes. "All I ever wanted to be, as a little girl, was a performer!" We're still recovering from Ms. McDormand's post-speech shakes!
10:42pm. Ms. Foster weeps thanking her dresser, who's apparently moving to Cape Cod. She's so effortlessly ingratiating—guess that's how you win a couple of Tonys!
10:43pm. That Paul Shaffer wrote "It's Rainin' Men" will always be weird. He presents the cast of Priscilla, Queen of the Desert.
10:47pm. These costumes! The Observer wrote about the costume designers for Priscilla, Queen of the Desert this year. Go read it between cocktails!
10:53pm. Catherine Zeta-Jones presents Best Actor in a Play to Mark Rylance—his second Tony—for Jerusalem.
10:55pm. Mark Rylance discussing the specific ways in which one can walk through a wall. He's either the best or worst acceptance-speech-giver of all time, and one imagines he'll have many more chances to try.
10:56pm. Best Actor in a Musical goes to Norbert Leo Butz—again, his second—for Catch Me If You Can. After Mr. Rylance's speech, a typical show of fealty—so gracious!—just seems dry.
10:58pm. Mr. Butz based his character—an obsessive, cruel FBI agent—on his father. Sweet?
11:02pm. Chris Rock presents Best Musical, has apparently been receiving texts about the NBA Finals all night!
11:03pm. "We know what the best musical is! This is like taking a hooker to dinner," says Mr. Rock. Poor other nominees!
11:04pm. Mr. Rock feigns surprise as Trey Parker claims the Best Musical prize. "Thank you—this has been really, really cool. We did this because we all wanted to have a big, happy Mormon family—and now we do." Scott Rudin Face Watch: the man is BEAMING.
11:05pm. Mr. Parker thanks his "co-writer": Joseph Smith. Neil Patrick Harris is doing a free-style rap to close the number. But of course! Is this where he's been the last forty minutes—rehearsing his rap? Good night!
ddaddario@observer.com :: @DPD_