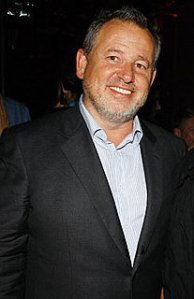 Marcella Hazan still smokes, still drinks and still cooks, but the woman credited with revolutionizing Italian cuisine in America does it all now from a west Florida condominium, not the West Village townhouse her husband purchased 16 years ago. Victor Hazan, himself a well-known wine writer and son of furriers, has sold the home to a tastemaker of another sort, Fabien Baron.
Mr. Baron might be described by some as tasteless, for his minimalist stylings and languid magazine spreads, but it has all made him a great deal of money. The boundless creative director has left his mark on everything from Italian Vogue to Harper's Bazaar to, most recently, Interview, as well as furniture, sunglasses and Madonna.
Unlike Madge, Mr. Baron prefers his digs downtown, though he certainly paid a rock-star price fro 55 West 9th Street. According to city records, the six-bedroom Neo-Grec beauty cost $9.4 million. That is many times more than the $1.35 million Mr. Hazan paid when he first bought the home, but also a good bit less than he originally wanted when he put the home on the market in July of 2009 for $11.75 million
With 4,500 square feet spread across four floors and a cellar, this 22-footer boasts all the usual Gold Coast specs: brand new, top-of-line, granite-lined chef's kitchen (perfect for Ms. Hazan); high ceilings; six fireplaces; and a terrace overlooking the garden with "mature trees superb for entertaining," as Leonard Steinberg, Herver Senequier, Holly Parker and Trisha Reidel put it in their Douglas Elliman listing.
"This jewel has the best of both worlds: an original, traditional single family layout with all modern conveniences such as central air-conditioning and an updated kitchen and bathrooms," they write.
It seems a powerful New York editorial type is nothing without a luxe Village home these days.