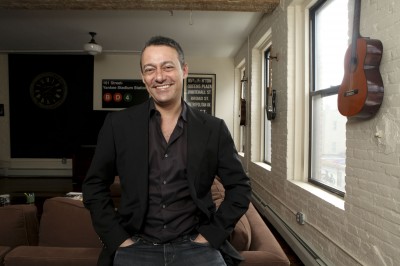 On or around April 5, a group of prominent New Yorkers—including Andre Balazs, Gwyneth Paltrow, Lindsay Lohan and Harvey Weinstein—received a curious group text.
It was from Courtney Love, and she was pissed. Maer Roshan, she said, was fucking unethical. He was not to be trusted. He'd secretly tape recorded her, she claimed, and sold her out to the Internet.
What had prompted Ms. Love's fury was a rambling video that had been posted by Mr. Roshan's recently launched website, The Fix, in which Ms. Love assailed Kelly Osbourne for calling her a crackhead on the E! Channel. "I've saved her life twice, physically," Ms. Love fumed on camera. "Booze, Oxycontin and coke—foaming at the mouth … "
A number of online outlets had immediately picked up the story. And since it was evident to any of the hundreds of thousands of viewers of the clip that it had clearly been recorded with Ms. Love's full knowledge and consent, Mr. Roshan confronted her the next day. She replied via text. "I'm very sorryed," she wrote. "Just Fuckkked upp. Hate the stuupid innternet. Want to hang out tonite?"
Did we mention this website is focused on sobriety?
I witnessed Mr. Roshan extinguishing any number of such flare-ups firsthand, back when I worked as executive editor of Radar, the energetic, endearingly scattershot magazine and website (I say without prejudice) that he launched to great fanfare in 2003 and then stuck with through one mercurial billionaire backer after another.
The new website marked a comeback for the editor, who'd watched helplessly as Radar's backers sold the property out from under him in late 2008. The demise of the magazine had been brutal. At the end, he often seemed red-eyed and exhausted. And then we all packed up our boxes, and he disappeared. For a while, stories made the rounds among friends and colleagues (TV projects, big Web editing gigs), and then they didn't. Anybody heard from Maer?
As it happens, The Fix's subject matter was not chosen at random. Mr. Roshan had developed a serious drinking problem while struggling to launch and to then relaunch Radar and spent a good part of the past two years drying out in various rehabs, halfway houses and sober-living facilities.
A pricey treatment program "with trust-fund kids and rich celebrity people," as he put it, didn't do him much good. Eventually, he wound up at a rehab called Cri-Help, where the accommodations were spartan and many of the clients had arrived straight from jail. "It was in the Valley," he noted meaningfully. "Need I say more?"
Mr. Roshan was standing in front of a crowded tea shop not far from his apartment off Union Square, smoking a cigarette. He was wearing a light gray shirt open to the third button, black pants and black woolen overcoat. He looked much better than when I'd seen him last—thinner, healthier, more bubbly—though a notably round pot belly persisted.
One of his bunkmates was a skinhead, "a swastikaed young gentleman," he said, named Jared. "Of course, he was delighted to learn that his roommate was this gay Jew. And yet we ended up getting along really well! Except I really didn't like his music."
The experience doesn't seem to have affected Mr. Roshan's mischievous sense of humor, at least, not to judge by The Fix, a sobriety site as only he would conceive it. Along with rehab reviews, various resources for people seeking help, and hard-hitting pieces by the likes of Susan Cheever and Chris Byron, the site runs more unlikely stories, such as "AA's Most Annoying Cliches" and "The Argument Against Abstinence." And then there's Ms. Love, listed among The Fix's "hand-picked pros," who maintains she's been sober for years, even while admitting to the occasional sip of rosé or bump of coke.
Whether The Fix—which can sometimes seem jaw-droppingly lighthearted—effectively promotes sobriety for its readers (or for its editors) isn't entirely clear. Debates on the subject rage in the comment forums. But nobody who's followed Mr. Roshan's extraordinary whirl on the media thrill ride is surprised by The Fix's nervy tone. Twenty years ago, as the 24-year-old editor of a short-lived gay weekly called QW, he outed right-wing icon Phyllis Schlafly's son John. The story was picked up nationally and led to Mr. Roshan's denunciation by the family-values crusader on Meet the Press. His 1997 New York magazine cover story "Trophy Boys," co-written with Eric Konigsberg, about a cadre of attractive young "male courtesans … living in higher style than Andrew Cunanan ever imagined," prompted angry letters from David Geffen and finance writer Andrew Tobias and seems to have been scrubbed from the magazine's website (it lives on via Google Books). Another blockbuster feature, "Power Girls," which Mr. Roshan assigned to a young party reporter named Vanessa Grigoriadis, went off like a media-gossip I.E.D., dismembering a number of the city's hungriest young lifestyle flacks and scattering goody bags far and wide.
Working with Mr. Roshan taught her "that writing a story is about making jokes and gossiping with your editor and then putting it all in the piece," Ms. Grigoriadis said. "You get so spoiled writing for Maer because he cares so much, he becomes a partner. For a long time I thought that's what all editors were like."
Later, as editorial director of Talk, he commissioned a fashion shoot featuring Barbara and Jenna Bush look-alikes on a booze-fueled bender, leading the White House to issue a fatwa barring staffers from having any further contact with the magazine. If the boss wants buzz, you give her buzz.