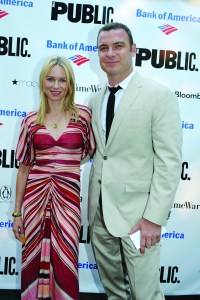 On what could only be described as a glorious midsummer night, the Public Theater celebrated its annual summer gala in Central Park. A sit-down dinner preceded a star-infused performance of All's Well That Ends Well, one of Shakespeare's lesser known works, directed by Daniel Sullivan.
Players from the worlds of Broadway, Hollywood and New York's social strata mingled on the Central Park lawn adjacent to the Delacorte Theater before sitting down to a three-course dinner in a picturesque and perhaps even whimsical mise-en-scène.
Tony-nominated actress Lily Rabe and veteran actor Martin Short swept by groups of perplexed nannies whose charges tottered and played tag in the late afternoon sun, blissfully unaware of the surrounding glamour.
Liev Schreiber, who has long been involved with the Public, attended the gala with his longtime date, Naomi Watts, who wore a long, red and pink striped Marc Jacobs dress. The couple, both New York transplants, gushed about their adopted home and the Public Theater's special niche with Shakespeare in the Park. Ms. Watts explained that the evening was really a "celebration of the city." "It's a testament to this one truly remarkable park," Mr. Schreiber added. The couple said they look forward to bringing their two sons, Sasha and Sammi, to performances in the future, but as the children are just 3 and 2 their parents admitted it might be a little while before they introduce them to the Bard.
We asked Ms. Watts about working with Leonardo DiCaprio on their upcoming film, J. Edgar. "He impressed the hell out of me," she responded. The Clint Eastwood-directed flick is set to be released in December. Asked which Shakespearean play the couple would like most to perform, Mr. Schreiber got a faraway look in his eye and said, gesturing to Ms. Watts, "I think you would make a great Lady McB." Fearing bad luck, the superstitious actor refused to utter the word "Macbeth" within the vicinity of a theater.
We spotted the telltale red tresses of Mike and Molly star Swoosie Kurtz, who appeared looking, if we may be so bold, smoking hot. She wore Alice + Olivia (Newton Johnesque) leather pants and spike Louboutin heels. When asked which Shakespearean role she would like to perform, Ms. Kurtz echoed the sentiment of her fellow jinx-fearing thespians and quickly responded, "Lady McB. I dare not say it here. I don't even say it at Macy's, I just like to keep my bases covered."
New York City Councilwoman and current it-girl of city politics Christine Quinn spoke at the dinner, waxing political throughout the entire address. Showing her own flair for the dramatic, Ms. Quinn lauded the Public as a place where any down-and-out New Yorker recently laid off from his job could go on a summer evening and find strength and solace watching the greatest drama of the English language. We looked around and couldn't seem to make out any such characters betwixt the white linen and seersucker silhouettes.
After dinner the guests processed to the Delacorte Theater for the main event. Although All's Well That Ends Well is one of Shakespeare's more problematic pieces, the veteran Mr. Sullivan directed an accessible and funny show.
The cast included John Cullum, as the King of France, Annie Parisse in the lead role of Helena and Andre Holland as Count Bertram. The play focuses on the relationship between Bertram and Helena as she, a lowly but capable physician's daughter, tries to win his high-society heart. After ruses and doppelgängers galore, Helena tricks Bertram into consummating their marriage after seducing him in the guise of another woman. Whew.
We caught up with Mr. Sullivan, who explained that it was the play's rather obscure and abstruse nature that appealed to him. Indeed it was "the mysteriousness of it" that attracted him most, Mr. Sullivan claimed. However, his wife, Mimi Lieber, had a different view. "It's the second play he has done about class this year. I think that's interesting," she added coyly.
After the cast took their bows to resounding applause, guests made their way to the Belvedere Castle for an elegant after-party overlooking the park. The treacherous stone steps leading to the castle were illuminated by Christmas lights and countless Public Theater interns, each dutifully double fisting flashlights and luminous cellphones to prevent any spills. Guests gorged on mini-deserts including cheese cake morsels and bite-size lemon whoopie pies while music, ranging from disco to Britney, blared from the speakers. Unlike their Champagne-sipping counterparts from Hollywood, the theater crowd was more laid back, sipping Stella from bottles and ordering large glasses of white wine late into the evening. Several older guests danced away unabashedly in front of the deejay booth while a group of younger, hip attendees looked on, wide eyes gawking over the brims of their ubiquitous nerd glasses, martinis gripped firmly in hand.
Guests began to slowly make their way down the Castle's steps around midnight. Others stayed on the lower terrace and dragged on cigarettes in the dark or sat on the stairs gazing at the now-quiet park below. And so, everyone was in true form. The old acted young, the young acted old and a good time was had by all.