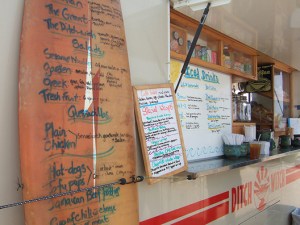 The opening salvos in this summer's Hamptons food truck wars have been fired.
Fans of the Ditch Witch–the beloved grub wagon perched at the sandy entrance to Ditch Plains Beach for 17 years–took to Facebook when word got out that the East Hampton Town Board planned to award an exclusive concession for the beach to a competing vendor shilling pricey lobster rolls. The lobster vendor had been forced to get aggressive about acquiring a permit after Montaco, a taco truck, applied for a Ditch Plains permit of its own.
Within hours, a "Save the Ditch Witch" page went up on Facebook, and more than a thousand supporters had pledged their undying support and their intent to "take Montauk back." Many predicted the demise of true Montauk culture should the Witch be ousted–the last coffin nail after a series of incursions from "the outside" over recent years.
Some Facebook posts predicted a dark future for those daring to unseat the Ditch Witch. Various tactics were considered, from the peaceful (forming a human chain) to the more threatening (truck-tipping).
Late into a town meeting on May 19, after waiting hours to speak her peace, Montaco proprietor Mars Ostarello claimed that one local truck chef had warned her of dire consequences if she trod on his turf.
"Bullying is alive and well in Montauk," she said.
By the time Memorial Day rolled around, the town had scrapped its plan to grant concessions to the new beach vendors. Montaco was present on Saturday morning, as was the Ditch Witch. The lobster roll truck has not been accounted for. There were no reports of truck-on-truck violence.
"Customers were really excited, because of their participation," Ditch Witch owner Lily Adams told the Transom. "I think for some people, it was just a limit to what they were gonna take."
The uproar was not just about drinks and sandwiches, she said. "This was a neighborhood."