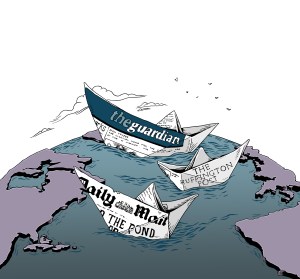 To hear Martin Clarke tell it, The Daily Mail accrued its online readership in America nearly by accident. Lining a landing page with paparazzi shots headlined with expressions of awe and outrage, making the bikini a newsworthy event—that was not transatlantic outreach, just British custom. "Originally we focused ruthlessly on our British audience because that was the easiest to monetize," said the publisher and editor of the paper's website, MailOnline, "but we found we'd ended up with a big American audience without really trying."
They came for Demi Moore's "incredibly toned biceps" and Gisele's "perfectly toned pins," but this growing U.S. audience has convinced the paper that an augmented digital presence here will pay off in Internet advertising revenue. "The way the web works," said Mr. Clarke, "is that it only makes sense to be free if you're big." The untapped potential of 300 million Americans who speak roughly the same language and pay attention to mostly the same celebrities proved too much to resist. So The Daily Mail has set up shop in America: may the sun never set on Pippa Middleton's derriere.
Media types stateside have so far welcomed their new competitor.
Bonnie Fuller, former editor of US Weekly and current president of Mail competitor HollywoodLife.com, professed her love for the publication, but warned, "It's a mistake to think you can import people and think they can understand this market. Look at what happened to Cheryl Cole on X-Factor!"
Arthur Sulzberger, for his part, has commented that British newspapers fail to speak to the "American experience."
"All I can do is point to the numbers," said Mr. Clarke in response. "Clearly we do or we wouldn't have a bigger audience than most newspapers in America."
The paper quietly opened a New York office in Soho in February, filling it with six or so young staffers jetted over from England. The New York branch followed the opening of a showbiz office in Los Angeles last fall, and signaled that the web site was expanding its American coverage from the celebrity gossip to hard news as well. The local media were wary: the Mail has a reputation for poaching news without attribution, for one thing. In January, they were caught lifting sections of a New York Times article almost verbatim. And while a Mail executive claimed that was before they had staff in-country, another pattern has emerged: "For Edwards's Adult Daughter, a Recurring Role: Family Glue," was the headline on a New York Times article one morning. "Her mother's girl: How John Edwards' daughter Cate became the glue holding family together," was on MailOnline only a few hours later, albeit with a credit to the Times for most of the quotes. And there's another local custom MailOnline has chosen to ignore.
"They don't physically link to websites from which they lift material," wrote Tony Metcalf, the editor-in-chief of NY Metro, in an email to The Observer. "We've asked them to do this because we think it's fair and right and when Metro refers to the work of others, we link as a matter of course."
"They don't link to anybody!" echoed Ms. Fuller.
"We link out to people where appropriate," said the Mail executive.
Then there's the reputation of Mr. Clarke, who splits his time between London and New York. According to profiles written about him in the U.K., Mr. Clarke is famous for profane rants and reportedly once yelled at an employee with such vigor that he gave himself a nosebleed. "We're suffering from Stockholm syndrome here," an employee of his at a previous job told London's Independent. "He's so focused, he can force people to do things they don't want to, the least of them being working a 12-hour day."
"We'll hire people who want to work here," said a MailOnline manager, when asked if Mr. Clarke's style might not translate to accommodate needier American sensibilities (they are actively recruiting American reporters).
MailOnline has done well so far, with the most recent statistics from comScore placing it fourth in unique page views for news sites, beating out the Los Angeles Times, The Wall Street Journal and USA Today. Whether that translates to brand recognition is unclear, however. Will headlines like "Jackass star Ryan Dunn dies in horror crash as $100,000 Porsche flies off road and explodes in fireball after night out drinking in bar" foment a loyal readership beyond search-engine hits and random Tweets?
"What they've done, which is clever, is to get a lot of traffic without spending very much money," said an editor in the web business who has worked in both markets. "Whether or not they could become a respected right-wing populist news site is possible, but it's not easy."
But it's not immediately apparent that the MailOnline will maintain its ties with the favorite paper of conservative middle-aged U.K. women. ("My mother-in-law and all the rest of it love The Daily Mail," said Gillian Tett, U.S. managing editor of The Financial Times.)
"It's really quite different from the print version in the U.K.," said John Gapper, a British business columnist at The Financial Times. "I don't think they intend to bring over The Daily Mail, I think they intend to compete with TMZ, Gawker, and Huffington Post and just try to get more and more traffic."
They will also face a more familiar foe: The Guardian has announced its own American expansion, with a vanguard editorial colony led by Janine Gibson, its most senior digital editor, and several reporters. The two papers might even bring their famous culture war stateside. "They spend a lot of time egging on their own readers to hate the other's readers," said Mr. Gapper.
But those worried about a resurgent British hegemony will feel encouraged to know that the Huffington Post—one of our own country's most catch-all media concerns—is opening an office in London this summer.
ewitt@observer.com