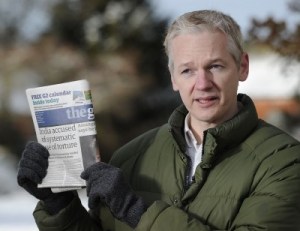 We reported last week on the American expansion of the bikini-loving online wing of British newspaper The Daily Mail. The Guardian is also expanding its online presence here, but under rather different circumstances – and for the second time. Does anybody remember Guardian America? Yeah, that's because it didn't go so well. We wrote about it in its nascent days back in 2007, but the project never quite materialized as promised and officially died in 2009.
As described at its outset, Guardian America was to bring an opinionated left-of-center viewpoint to American issues – a version of the British paper written by Americans who had a Guardian-ish outlook themselves. The project was headed by Michael Tomasky, a Washington-based journalist who staffed it with several local hires in the fall of 2007.
Like The Daily Mail, The Guardian's initial popularity with American readers was not cultivated but rather was the accidental byproduct of an aggressive online strategy back home. The new site aimed to address those readers directly, but after the initial fanfare of the announcement and the staffing up of Guardian America in Washington, The Guardian never seemed to throw its weight behind the operation. There was never an automatic re-direct to the URL for readers accessing The Guardian from the US and its correspondents quickly became little more than local hires doing spot news and election coverage as correspondents, sometimes for the actual paper in Britain.
"We all worked very hard for The Guardian and had a lot of support from our British colleagues in Washington and from the foreign desk in London," a former member of the Guardian America staff told The Observer.  "But ultimately it felt like the paper didn't know who the target audience was and what it wanted, nor how to use the Guardian brand. The readers never showed up like they were supposed to and the project didn't make enough money to sustain itself."
There were also some notable misunderstandings between staff members: The Guardian initially showed only a rudimentary understanding of the US health care system, reimbursing its workers for exorbitant individual health plans rather than purchasing group coverage. This later changed, but along with the alteration in benefits came a new holiday package for local hires, one more in keeping with stingier local customs about vacation days. This caused some irritation among American staff working alongside foreign correspondents from Britain, who continued to enjoy their lengthy European holidays.
In November 2009, the foreign editor, Harriet Sherwood, and the digital editor at the time, Emily Bell, gathered the American employees into the company's fancy podcast recording studio, thanked them for their services, and told them that Guardian America, and their jobs, would be ending. Mr. Tomasky stayed on with the nebulous title of editor-at-large until this spring, when he was picked up as a special correspondent for the new Newsweek.
Even without a dedicated news team here, however, The Guardian's numbers of American visitors remained high – approximately 10 million visitors a month according to Janine Gibson, who will be heading The Guardian's operations here when it ramps up American-targeted coverage for a second time in the coming months. These visitors, even now, are still being greeted with a box showing the weather in London and a landing page featuring articles about David Miliband (although the ads, at least, are in local currency), but readers can expect that to change next fall.
"What we have done before is work with American journalists who have a sort of similar stance or vision or approach to The Guardian," said Ms. Gibson. But it turned out readers did not come to The Guardian for American voices. "It didn't particularly work for us as a UK brand in the US," she said.
This time, The Guardian's American web site will attempt to be, in the spirit of The Economist's success on this side of the pond, what Ms. Gibson calls "internationalist." She described the approach as "a distilled version of what we are, but for an American audience."
The expansion follows an announcement by the paper that in response to major financial losses it will be focusing its future expansion online, as well as making massive cuts in staff. As such, do not expect a major US hiring spree like the one Mail Online is on.
"What happens if you pick up The Guardian view of the world and way of coverage and put it somewhere else?" asked Ms. Gibson. And that's precisely what will happen: a group of British-based reporters will be picked up and put down in New York City, to write about local happenings. Unlike The Daily Mail, which has thus far brought over a young, flexible staff, The Guardian is bringing over at least two married couples (including Ms. Gibson's husband Steve Busfield, editor of a difficult part of the newspaper to translate for an American audience: the sports blogs), along with an as-yet undetermined number of reporters. Ms. Gibson said there will probably be some local hires, but what Ms. Gibson called the "core team" will stay British.
An editor who has worked in both markets was somewhat skeptical of whether the paper will successfully appeal to Americans with American coverage: "Their current American reporting is a little naïve about America, and a little late," he said. "Often you feel that the people are sitting in Washington rewriting what Americans have written."
"My feeling is that cultural differences are overstated," said Ms. Gibson. "We know what we all mean by elevator, trunk, sidewalk and bathroom."
Or, as we might all get into the habit of saying, lift, boot, pavement, and loo.