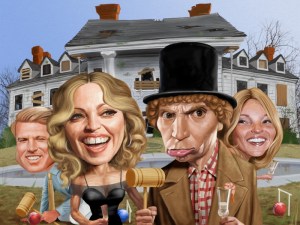 Would Daisy Buchanan live here?
Back in April, The Observer took a look at Lands End, the Long Island home that is said to have inspired F. Scott Fitzgerald's Great Gatsby. It is, or was, a well-known if rundown manse that has since been demolished to make way for a set of new waterfront mansions. "Have you seen the place?" developer Bert Brodsky asked us on a tour of the property. "It's a drop-dead unbelievable house on a spot not to be believed! It's just a special piece of property."
He and son Lee chatted up Curbed yesterday, revealing new renderings for the planned homes, as well as some interesting details about how they think they can actually turn the vitriol aimed at them for destroying this literary landmark into a marketing boon:
It will certainly be a challenge to change the thoughts of many that feel that the developer simply tore down a historical property—something that was a very difficult decision to make. We hope to convey the message that he is preserving the locale by building beautiful homes worthy of this special site and its historic significance. Furthermore, we are looking for owners also worthy of being part of this—[those] who will also appreciate it.

Of course we would acknowledge its history, which is a very important component to all of us. Furthermore, the developer understands and has accepted the challenge to honor its past by creating a contemporary environment and building residences worthy of its pedigree.
Besides, who wants one pedigreed mansion when you can have half a dozen?
SLIDESHOW: Gatsbyesque or Grotesque? >>