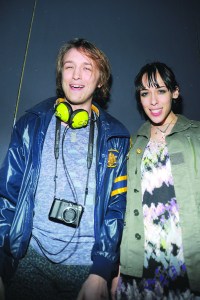 "LET ME TAKE YOUR PICTURE," Liam McMullan said. It was late May at the Southampton Social Club, and the lanky 23-year-old stood in front of me with a camera covering his face. He was there on assignment for his father, Patrick McMullan, the house photographer to the city's social set.
The camera shutter clicked.
"Oh, why don't you smile?" he implored. "You don't want to look like that on the site."
We smiled. Another click.
"That's good—oh, this is my fiancée, Aesha," Liam offered, introducing the small-framed woman in a flower-print dress who stood beside him.
When we ran into her again later that day, she was chatty, pretty and porcelain—and she wanted us all to be friends. "You're the same age as Liam," she pointed out.
That was Sunday. The first message came on Friday.
"It was nice seeing you. Will probablly be out in Hamptons every weekend n in Rockaway beach where we live,you are welcome2the beach."
We responded that we would love to drop by.
AESHA WAKS MET LIAM MCMULLAN in May 2009, when she was 31 and he was 21.
"Patrick Matamoros, he's a vintage clothes guy, really known around downtown," she recounted. "He had a party I was spinning at one night, and Liam showed up. After that night we kept running into each other every time we went out and every day too."
For the uninitiated, her crowd was, and still is, a group that tends to have birthday parties covered by the party-photo site Guest of a Guest—all of which is just fine with Ms. Waks.
According to her, she wasn't looking for a relationship with Liam—"because of the crowds of women and the groupies and the stalkers"—but they fell into together anyway. A month later, they were engaged. Aesha got a "Liam" tattoo and Liam got an "Aesha" tattoo.
The crash pad of choice was Patrick McMullan's Fifth Avenue apartment, near N.Y.U., where Ms. Waks was taking classes.
"We took over his life," she said, of her new father figure. "I was literally wearing his boxers to bed every night."
Ms. Waks had something of a career as an actress—cameras of all sorts seem to exert a pull on her. In the mid-90's she stared in a few pictures, including Arresting Gena, with then-unknowns Sam Rockwell and Adrien Grenier, in which she played a girl with a mother in a coma. By the aughts she was appearing in ever-smaller roles in ever-smaller films.
Her ambitions have shifted since then, and these days she is in an artistic way. This week, instead of stepping before the camera, her art will be on display at the Town House Art Gallery in Park Slope. The big works are messy and neon, consisting mostly of wooden planks splayed with text and assorted detritus—Page Six cut-outs, cigarette wrappers, party flyers, trash, American flags, JC Penny bags, Patrick McMullan photos, Warholesque axioms, cereal boxes, pictures of Michael Jackson, Justin Bieber with a mustache, Liam McMullan and Aesha Waks.
"We had to look through Patrick's trash every day while he was recycling, and I found a lot of cool things," she said. "I started making collages out of his garbage."
Now, she works out of the home she was raised in, a tumbledown-but-stately 1940's mansion overlooking the water at Rockaway Beach. The house was built by her grandfather, the walls painted by her mother and the payments settled by her father, who owned a cut-rate women's clothing store on the main Rockaway strip of 116th Street. He quit town five months ago and went down to Florida with a new girlfriend.
With its cracked marble and creeping rust, the house demands a name, and indeed it has one: "The Mindy." Its namesake, Ms. Waks's mother, died in that house, collapsing in the living room after a stroke and falling into a coma from which she would not awaken. "She had serious tumors at this point, and she'd literally fall down the stairs in the middle of the night because she couldn't even walk," she remembered dolefully. "And I would have to pick her up at 4 in the morning from the floor.
'What are you doing?' I'd ask. And she'd say, 'I'm going down to the guest room to print out pictures of pink flamingos to paint tomorrow.'"
After a sticky hour on the train to Rockaway Beach, The Observer tucked himself into the back of Mr. McMullan's gray jalopy. Ms. Waks, wearing a dandelion dress she bought from her father's store and colossal black sunglasses, rode shotgun. A plan was made for a cookout.
We arrived at a narrow driveway, a tongue of pavement rolling out from the split-level house. A defunct fountain, tiled with swirling prisms of color, stood out front, and iron war figurines dotted the stone staircase to the door. A red awning hung above the front door.  Inside came a wash of orange sherbet walls and paintings done in the old style, by Ms. Waks's mother—a painting of Victorians with golden mirrors and men in riding pants nursing cocktails. The house's spaces spilled out onto a deck, and beyond that was a pool filled with a foot or two with bulbous green gunk.
Inside, Liam jiggered a nugget of weed into a one-hitter.
The Observer walked to the window to take in the view.
"The city skyline, you can hold it in your hand," Ms. Waks noted.
We squinted at Manhattan, focusing through the fog.
"Let's fire up the grill," came the suggestion.
It had been announced several times that despite Liam's strict veganism Ms. Waks gleefully consumes meat.
"I got myself over borderline anorexia," she said, after the tiny burner produced a sufficient flame. "Since then, I've been doing health consulting."
She has a book in the works, The Model Body, that will promote proper eating and fitness with pictures of beautiful women—all shot, of course, by Patrick McMullan.
"These are the girls that people get anorexic over," she said, dragging on a cigarette. "I want to fix that."
Soon, a crowd filled the living room: Ms. Waks's brother, her brother's girlfriend, her brother's girlfriend's kid, the kid's friends, the guys fixing the pool, the pool guy's buddies.  She suggested a tour of the house. Her bedroom was a disaster, clothes and canvases and guitars spilling out over the mottled carpet. Some of her collages hung on hooks beside her bed; others, packed away for the trip to Brooklyn, for the next week's exhibition. There were printouts of McMullan shots on the walls, including one of Ms. Waks with Liv Tyler.
She explained that her mother too was an artist. "Something like this is what she did when she was sick," she said, holding up a work rendered in cobalt-ash smearings. "She wasn't trying to be a cool abstract artist, it's so strange.
"And then she did this of my grandmother," she said, pulling out one of her mother's portraits, a more conservative style, from before the tumors started. Ms. Waks began to tear up. Immediately behind the minicanvas, we noticed, was a copy of Patrick McMullan's Kiss Kiss, his collection of celebrities locking lips, with Nick Lachey and Jessica Simpson on the cover.
"When are you and Liam going to get married?" we enquired.
"We're waiting—right now we have a couple of sponsors and TV shows talking to us," she replied. "Who knows? Maybe Tori Spelling will throw it for me. She has her wedding show."
She paused.
"Who's helping me put it together? I don't have a mom, my grandmother's in Florida, she just got over getting ill. It's just, like, how am I supposed to do this on my own?"
"IS THIS THE AESHA WAKS SHOW?" asked a frumpy man in his late 20's. It was a Monday evening, on the corner of Second Street and Seventh Avenue in Park Slope.
Inside, the Town House Art Gallery was empty, but for two people.
Ms. Waks's collages occupied much of the wall space. They consisted of New York Post clippings, barcodes, hair ties, sparkly plastic jewelry, the word "MONEY" big and sideways. Mr. McMullan had designed postcards to accompany the show. "Aesha's hope is to continue the legacy of Andy Warhol and create a new factory," the text read. The reverse side featured a patchwork chaos, in the middle of which was a cover of Artnews, that asked "Who Are the Great Women Pop Artists?" The name "Aesha Waks" appeared directly underneath.
"You made it!" Aesha enthused as she walked in, Mr. McMullan in tow, camera around his neck.
"Go stand over there," he ordered, "I want to take a picture of you two."
He pointed out a collage featuring images of Mary-Kate and Ashley Olsen, Mario and Luigi, a symmetrical banner printed from a page from Guest of a Guest—and, naturally, Liam McMullan and Aesha Waks.
Mr. McMullan raised his camera once again, obscuring his face.
"Smile," he said.
We did, and the camera shutter clicked.