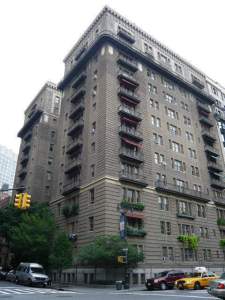 Laurie Tisch is finally finished with the West Side.
Having decamped for 834 Fifth, Ms. Tisch almost sold her penthouse at 88 Central Park West to Sarah Jessica Parker and Matthew Broderick. When the ParBro deal fell through, her brokers, Cindy Kurtin and Jessica Vertullo-Maher of Stribling, put the home back on the market with the option to buy it in pieces.
As The Observer reported late last month, that is what happened, as two neighbors snapped up her spreads. The bigger unit, a nine-room duplex, went to private equity guy Jeffrey Gates and his partner Richard Michael Moran for $15.5 million, who were upgrading from the sixth floor. We had heard the smaller five-room co-op was bound for a neighbor on the 10th floor, but it was unclear which one. Now–as always–city records reveals all.
Michael Stubbs, a retired investor, and his wife Veronica, call 10N home, and they have added 10W to their holdings, paying $3,999,600 for the privilege–right around the $4 million we had previously heard. The unit contains two bedrooms, a kitchen, dining room and living room–less two rooms Ms. Tisch had given over to unit 9N. Most every unit in the building was originally designed with seven rooms.
Put together, that comes to a combined $19.5 million, a bit shy of Ms. Tisch's last ask of $20.5 million. Back when the starlets were looking at the place, it was asking $25 million. So, again, sorry about that.
Read past Manhattan Transfers here. >>