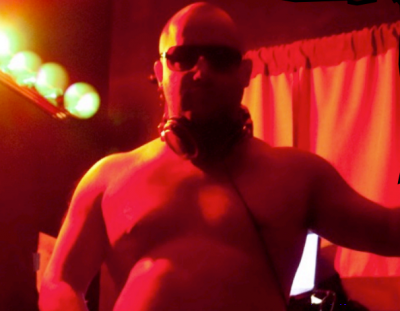 Kevin Rogers, the Nashville-area comedy fan whose heartfelt blog post about Tracy Morgan's homophobic rant was publicized by Truth Wins Out—resulting in a Twitter-storm of outrage, a decision to finally come out to his parents (an hour before appearing on CNN), a knuckle-rapping for Mr. Morgan courtesy of Tina Fey, another from Bob Greenblatt and finally a live, GLADD-brokered summit with the comedian himself—is not merely a stand-up critic.
He's also a professional photographer (weddings, mostly) who's recently been pursuing a more creative sideline: photographing hairy gay men, also known as bears. Some of his best work is collected in a new online magazine, FUZZ, which is out today. (It was in the works well before the controversy, and Mr. Rogers made it clear that his blog post was not designed as a way to promote the magazine.)
"FUZZ is a magazine that puts out an artistic view of the furry man," Mr. Rogers told The Observer, speaking by phone from his home outside Nashville in a slow, neighborly drawl. "People are starting to embrace bear culture, but I haven't seen anything out there where you can just tear a page out and frame it and hang it on your wall."
For the 18-page premiere issue Mr. Rogers focuses his lens on three chunky, hirsute models—"real men, hand selected by me for your viewing pleasure," as the website states—in a variety of settings, including a men's restroom, a nightclub and a weed-filled lot. Although genitalia are concealed, due to some printing restrictions, it's "everything but," Mr. Rogers said. He laughed and corrected himself. "Everything and butt."
While fairly bearish himself, Mr. Rogers says he prefers to think of himself as a cub. "Maybe that's just me wanting to hold on to my youth," he admitted.
As for his press conference with Mr. Morgan, he said that the two met privately a few minutes beforehand. "He made me look him in the eyes and just said he was sorry. He said he's really been hurt by this, but that he wanted to make it a positive learning experience." Afterwards, as the two men walked down the hallway, Mr. Rogers added, "He told me he'd made a friend for life."
The Observer couldn't help asking: Up close, is Tracy furry? "He's not a bear," Mr. Rogers reported. "He's smooth."
FUZZ is available now. The print version is $6, and the digital version $3. Mr. Rogers is counting on a hit, he said, because he fears his wedding photography business might be adversely affected by Tracy-Gate. "I am in the absolute buckle of the Bible Belt."