In a meeting at Cooper Union last night, Village Voice employees unanimously voted to give their union negotiating committee the right to call for a strike vote during contract negotiations, which reconvene today after a break. Their contract expires at the end of the month.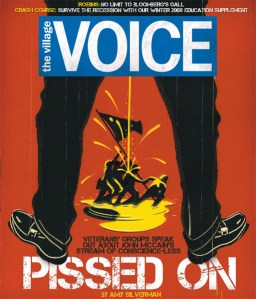 Strike authorization is a bargaining chip for the committee (which includes Jesus Diaz, Jim Hoberman, Melissa Anderson, Angela Ashman, Camille Dodero, Jen Doll, Sean Polite and Steven Thrasher) and doesn't mean negotiations won't go swimmingly, but the solidarity is suggestive. Departed senior staffer Tom Robbins attended a recent union meeting and a space is on hold for a benefit concert next Wednesday to raise money for a strike fund.
The most pressing issue on the table is Voice's benefits package, which management lawyer Bert Pogrebin (who also represents Harper's management) proposed slashing. Because Village Voice employees do not currently contribute to their health care, the proposed changes amount to both a pay cut and lower quality coverage.
During the last round of contract negotiations in 2008, the union fought down the proposal of a two-tiered benefits system which would grandfather existing employees in the good benefits package but offer a lesser model to new hires, asking, "Why worry about the unborn?" Since then, management has used the benefits the union defended to lure new talent to the Voice.
"This demand comes from our owners—people who do not live in New York, have no idea how financially arduous life here can be, who are only to glad to traffic on the Voice's name and history and reap the profits it generates, and are openly contemptuous of the people who actually put out the paper," wrote the negotiating committee in an e-mail to the shop.