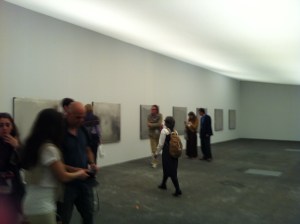 BASEL, SWITZERLAND — It should come as no surprise to observers of the contemporary art world that the youngest artist on display at the curated Art Unlimited section of the Art Basel fair, which opened to VIP guests today in Basel, Switzerland, is none other than 26-year-old wunderkind Jacob Kassay. Last month, a silver painting by the New York-based artist, made using his characteristic approach of adhering silver to a support through an elaborate alchemical process, sold for $290,500 at auction house Phillips de Pury & Co., blasting past its pre-sale estimate of $60,000-80,000.
Mr. Kassay has become quite an art market darling in the past year, but he doesn't yet figure in museum collections — a key element in building long-term support. So two of his dealers — Art:Concept Gallery of Paris and Xavier Hufkens of Brussels — have come up with a clever solution: the sprawling, brand new eight-panel piece on offer at Art Unlimited will only be sold to a museum.
That's right: private collectors need not apply.
"I imagine a lot of people know his work for the wrong reasons," Mr. Hufkens told The Observer, obliquely referring to the recent auction result, as well-heeled gawkers filed in and out of the room housing Mr. Kassay's eight square, silver panels, some viewers avidly snapping photographs of their reflections in the works. "It's important for us to give him a strong context."
Mr. Hufkens added that a museum, in this case, means "a real museum."
"We won't sell to a private foundation open to the public." That presumably means collectors like the Rubells, who could be seen making the rounds of Art Unlimited, and who run The Rubell Family Collection, a private exhibition space in Miami, also need not apply.
Mr. Hufkens refused to disclose the price of the Art Unlimited installation to The Observer, but did indicate that his primary market prices — for works that are fresh to the market and on offer from his dealers as opposed to up for resale at auction — are being kept well below the stratospheric auction levels.
"We don't play the speculation game," said Mr. Hufkens.
Last fall, after Phillips de Pury & Co. sold a single-panel Kassay piece estimated at $6,000-8,000 for a whopping $86,500, similar works of that size, that had previously been selling for around $10,000 jumped only to $20,000, according to his Paris gallery, Art: Concept. But even going by that measure, the eight-panel work at Basel could be expected to retail for around $160,000.
Mr. Hufkens told The Observer he has already seen interest from several institutions. Art Basel runs through June 19.