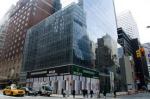 Business seems to be moving along at 510 Madison, the luxury office building that developer Harry Macklowe traded to Mort Zuckerman's Boston Properties last year. In addition to seeking major deals for multiple floors of office space, the building at Madison Avenue and 53rd Street is marketing to smaller tenants who would lease as little as 2,500 square feet (read: hedge funds).
"We have a great level of activity and we are willing to entertain deals from 2,500 square feet to multiple floors," said CB Richard Ellis' Paul Amrich, the rental agent for the building, at a cocktail party last night to introduce the building's small-tenant program.
The Observer, upon  receiving an invitation (apparently by accident), stopped by the party to check out the new building. As it turns out, the party wasn't open to reporters, but we got an inside look anyway.
Party guests enjoyed wine (red and white) as well as liquor on the 27th floor, which has all-around views of midtown. Floor-to-ceiling windows and glass offices (not to mention the lack of those obnoxious concrete columns) make the views nearly unobstructed, and you almost feel like you're hanging out in a cloud.
The kitchens aren't bad either, and even the smaller office suites get them. For those stressful days at the office, there is a "health club" and pool, and if you want to impress clients you can take them to the building's garden terrace or upscale restaurant.
Floor plans on display at the party illustrated different set-ups, splitting some floors into two or three different suites with varying amounts of space. To attract financial-sector tenants, 510 Madison also has floor plans for office space that can be set up for trading (essentially cramming more and smaller desks into the same amount of space).
And although the building has had its share of trouble, Mr. Amrich said 510 Madison has "leased a lot of space, thank God," adding that some tenants have moved in and they are still busy leasing.
Representatives from Boston Properties declined to comment on how many tenants have signed leases so far, but it appears as though rental agents are hopeful that appealing to a broader range of tenants will help fill the 350,000-square-foot tower that the company bought for $275 million.
"We're really trying to cater to a lot of different people, and I think the pricing reflects that," Christie Harle, who works with Boston Properties, told party guests, listing off rents north of $100 per square foot.
We're not so sure about them catering to different types of tenants per se, but it looks like they've at least inked a few significant deals from financial-sector tenants.