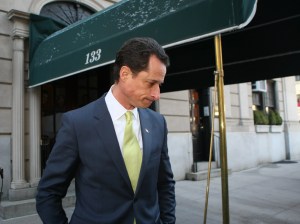 It's the last week in May and the weather is finally warm, the Hamptons commute is seasonally torturous, and our aging international businessmen are doing what has become increasingly commonplace this time of year: lecherously pursuing the housekeeping staff through the halls and in the well-appointed rooms of our fine luxury hotels. And by "increasingly commonplace" we mean "twice in two weeks." Which is far more commonplace than we'd like. Once in two weeks is pushing it. Twice is just … embarrassing.
In the most recent case, Mahmoud Abdel-Salam Omar (acronymed MASO in the American press–and by "the American press," we mean us), the former chairman of Egypt's Bank of Alexandria and erstwhile guest in room 1027 at the Pierre was arrested on charges of sexually assaulting a maid. A law enforcement source told The New York Post that the 74-year old Mr. MASO allegedly "gyrated" against the victim. And let's face it, gyrating septuagenarian bankers are generally embarrassing even under circumstances that could be fairly described as consensual–a fact that could easily be deduced from a survey of the over-65 jetsetters who routinely appear in our fine meatpacking district nightclubs.
Mr. MASO's behavior notwithstanding, his predecessor-in-crime (known in the American press as DSK–and by American press, we mean all of it) has acquired, if not a proper sense of embarrassment about his behavior, a sense that media attention should be avoided with the same gusto that female cleaning staffers now avoid DSK. The former I.M.F. chief hired an all-male housekeeping staff at his $50,000 a month Tribeca townhouse, preempting an obvious bad decision that could have been, well, embarrassing.
Also embarrassing? Sending a boudoir cell phone shot of your tumescent boxer briefs to a college student through a public tweet, as Representative Anthony Weiner–or someone posing as him–did Saturday night, sending the media into a frenzy over what was immediately dubbed "Weinergate." Weiner, who we can all agree does not need to give anyone further fodder for dick jokes, has been uncharacteristically cagey about the incident, retaining a lawyer and refusing to answer questions from the press (although he did tell Politico that is was "obvious" his account had been hacked.)
But not everyone's eschewing negative media attention. Snooki (known in the American press as "Snooki") was chastised by the president of the Italian American organization UNICO after a run-in–literally!–with Italian law enforcement officials. "She really is the lowest of the low and will do anything for attention, even hitting a police car," Andre Dimino told RadarOnline.com. "She is our worst ever export and is an embarrassment for Italian Americans and our whole country."
But Italy's not the only Mediterranean country that's feeling embarrassed right now. It was recently revealed that Libya lost $1.3 billion it invested in Goldman Sachs. This should probably be more embarrassing for Goldman Sachs, but sometimes we're not sure bankers are capable of embarrassment. Which would also explain Mr. MASO.
And it may also explain Mayor Michael Bloomberg's seemingly ambivalent reaction to his daughter Georgina's upcoming young adult novel The A Circuit. "I've long been proud of Georgina's accomplishments in and out of the show ring," the mayor told The New York Times. In the novel, a familiar sounding Wall Street billionaire named Rick Aaronson "owns half of New York" and is a father to two daughters, one of whom is an equestrian and the other of whom is an intelligent overachiever. (We're not sure those things are usually mutually exclusive, but we'll just go with it.) As far as we can tell, there's no mention of said billionaire banker gyrating against anyone or anything. Which is a relief. Because that would be embarrassing.