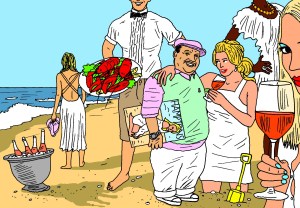 Last Sunday night, Rob, a hulking Hamptons cab driver with two bum knees, barreled his van down the Montauk Parkway toward Amagansett running through a pack of reservation cigarettes and talking about his drug habits.
"If I'm on a heavy narcotic, do you want me coming in?" he yelled to The Observer, who fastened his seat belt. "I mean you can drive on it–us guys do it all the time–but if you get fucked, it's your ass."
Rob had already explained that he had been pulled over the night before.
"Where you coming from anyway?"
"The Southampton Social Club," he said.
"What for–hey! You gonna drive or you gonna fuckin' lollygag!" he said, interrupting himself, not for the first time.
The highway hugged the curvature of the coast, as gas stations and old manor homes flickered past the window.
"What were you up to?" Rob asked again.
Forty-five minutes to Amagansett, why not steer the conversation, for the sake of steering something during the ride?
"Party for Chelsea Handler, hosted by Hamptons magazine. She's on the cover."
"Who the fuck is Chelsea Handler?"
The Observer explained. Ms. Handler is an author with her name on her covers twice, once in the byline and once in the title. She's the star of Chelsea Lately on E! and, soon, an NBC prime-time show based on Are You There, Vodka? It's Me, Chelsea.
A Hamptons lifer, a cabbie driving drunken kids to the Talkhouse on summer Saturday nights, does not need to know of Chelsea Handler. Not so for the people who came to the Southampton Social Club.
"You gotta wait here, because you know who we're waiting for?" Jason Binn, Niche Media founder, longtime Hamptons owner and notorious flocker to the rich and famous, said to his daughter.
"Who?" wondered the little girl, a pink plastic flower in her hair.
"Her," Mr. Binn said, enraptured, as he pointed to the blown-up cover shot of Ms. Handler–sand rolling off behind her, hair fan-blown–on one of the local beaches.
The makeshift red carpet was small and confusion took over. The press and a battalion of P.R. girls in pastels darted around the lawn of the converted home that, having opened days earlier, will now serve lobster in its clubroom and club beats on its party lawn–girls slipping tubes of Tide to Go in their Prada bags lest a drop of rosé land on their all-white-everything dresses–the kind of spectacle that keeps the Hamptons endearingly devoted to its well-earned clichés.
To pass the time, publicists weighed starting a rumor that Kanye or Diddy would attend the Jessica White party later. Beth Ostrosky Stern came by and chatted with a reporter about Twitter. And, hey, it's Katie Lee, Billy Joel's ex-wife. You're writing a novel. That's fantastic.
Finally, Ms. Handler and her boyfriend, hotelier Andre Balazs, showed up and The Observer followed them into the event, with its lime-green Lacoste goody bags and flower-print frocks that stood out against the overwhelming swaths of ivory.
Mr. Balazs may own several chic inns, but here he was second banana to Ms. Handler. He stood alone and undisturbed by the bar. The Observer asked him about StndAIR, the new one-plane airline run by the Standard, which he owns.
"The idea behind it was twofold: to be able to fly with a sense of fun, and the other is, we have a flight board that allows people to organize their flights."
Ms. Handler appeared at his arm, having survived a mini mob of revelers asking for pictures and autographs.
Ms. Handler, in a twist, felt like an outsider–she's summered elsewhere and never been to the land that gave the glossy she graces its name.
"Oh, I'll never be done with Martha's Vineyard. That's where I grew up," Ms. Handler told The Observer. She wheeled around, as if able to take the whole thing in with a single whiff. "But I do like it here. It's beautiful."
nfreeman@observer.com