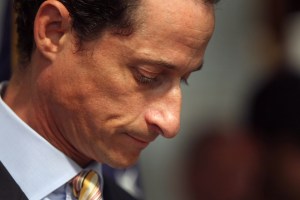 Since early June, we've been forced to resign ourselves to the inconvenient truth that New York is now, basically, the Midwest as far as the weather is concerned. Long days of oppressive, unrelenting heat (the kind that would wilt corn crops, but somehow does nothing to subdue the brunch crowds at Sarabeth's) followed by sheets of hail, violent thunderstorms, gale-force winds and tornado warnings—the only thing distinguishing us from Kansas at the moment is that, instead of Auntie Em, we've got Michael Bloomberg.
And how's this for irony: at midnight on June 21, the dawn of the first official day of summer—which ushered in what promises to be a three-month free-for-all during which New Yorkers of all shapes and sizes show as much skin as possible without getting arrested—also marked the end of Anthony Weiner's time in office. The congressman resigned last Thursday in front of a crowd who voiced concern for his welfare. ("Will you maintain your hard-on?" one intrepid reporter cried. Tsk, tsk, Mr. Keller—we expected more from you.)
Iran's recently appointed deputy foreign minister, Mohammad Sharif Malekzadeh, also resigned this week, albeit under far less salacious circumstances, and, presumably, to fewer questions about his erectile function, after Iranian intelligence officials and members of Parliament accused the Mahmoud Ahmadinejad ally of trying to weaken the role of the country's clergy. Meanwhile, from the pulpit of St. Patrick's Cathedral, Archbishop Timothy Dolan prayed "that marriage stays between a man and a woman in the state of New York." After increasingly cagey statements coming out of Albany from Andrew Cuomo and Sheldon Silver, we've resigned ourselves to the fact that there will be no vote on same-sex marriage before this issue goes to print (see Azi Paybarah's feature The Honeymoaners for details on the hold-up), but based on our cover story on Power Gays we know at least 50 New Yorkers who would love to silence the clergy (and, for that matter, the Republicans) in this particular case.
In other frustrating—if less potentially life-changing—delays, we've resigned ourselves to another week of Derek Jeter-less Yankee games, which also means another week of waiting for the sanguine shortstop to make contact with his 3,000th ball in major league play (we can't claim to know what he does in his personal life). Newt Gingrich's finance team has resigned, forcing the struggling G.O.P. candidate to attend only the events he can drive to from his Georgia and D.C.-area homes. And, across the country, deep in the recesses of his Holmby Hills compound, eternal playboy Hugh Hefner has resigned himself once again to living the life of your average octogenarian billionaire bachelor after his 25-year-old fiancée Crystal Harris called off their engagement just days before their planned June 18 nuptials, ending their very public May-December (really, more like February-December) romance. Ms. Harris did visit her jilted lover on Father's Day, however, lending an unexpectedly Freudian air to the day's festivities.
But not everyone's resigning. Or resigned. Take Keith Olbermann, for instance, whose Countdown sputtered to life once again on Current TV Monday night. The proudly pompous pundit spoke with documentarian Michael Moore about President Obama's Libya problem (try as he might, the president has not yet convinced Congress to resign its War Powers Resolution) and then crowned a new Worst Person in the World—none other than the "educated" young woman-turned-viral-YouTube-video-star who verbally assaulted a Metro-North train conductor last week.
Perhaps a more fitting contender for Mr. Olbermann's dubious prize would be Ayman al-Zawahiri, the Osama bin Laden deputy who has reportedly ascended to al Qaeda's top spot. Al-Zawahiri, a former member of the Egyptian Islamic Jihad, is said to "lack bin Laden's charisma." So we have that to look forward to.
Uncle Mike, it's gonna be a twister.