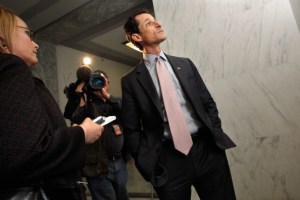 Congressman Anthony Weiner won't be making his scheduled speech to the Wisconsin Democratic convention tonight, a source told the Politicker.
As of yesterday, the state party was still expecting Weiner to attend the convention and address an anticipated crowd of about 2,000 people.
The congressman had been invited to the battleground state as one of the more forceful critics of Wisconsin Congressman Paul Ryan's budget plan, but he's become the center of a media circus since a lewd photo was sent from his Twitter account last week.
Despite all the attention, the party still planned to host Weiner, and the decision to withdraw from the speech was said to come from his office, not from the Wisconsin Democrats.