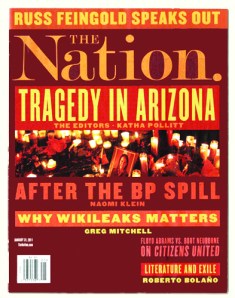 The Nation is publishing a series of articles based on United States and United Nations diplomatic cables obtained by WikiLeaks, and it didn't even have to wrestle egomaniac Julian Assange for them!
The Nation's cache comes secondhand, from Haitian newspaper Haïti Liberté. According to Nation executive editor Betsy Reed, the series reflects a new approach for Wikileaks, in which the organization targets releases to the countries specifically addressed in the cables. Cables released during this phase have been making news in papers in Honduras, El Salvador, Pakistan and India, but have been mostly ignored by the American media.
"If you look at the content of the Haiti cables, it shows the U.S. Embassy in collusion with all U.S. corporate interests," Ms. Reed told Off the Record. "That's going to be a running theme of a lot of the pieces."
It reportedly infuriated Mr. Assange that New York Times executive editor Bill Keller was able to obtain WikiLeaks materials through a back channel deal with The Guardian, but The Nation doesn't need to fear Mr. Assange's retribution.
"WikiLeaks did know about our collaboration with Haïti Liberté and they were and are very supportive of it," Ms. Reed told The Observer.
kstoeffel@observer.com :: @kstoeffel