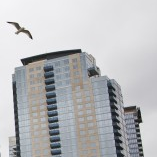 If the construction of The Edge condominiums on the North Brooklyn waterfront, along with North Side Piers next door, did not seal the fate of Williamsburg As We Know It, then the latest sale in the building certainly has.
The two-towered condo project has been the best selling building in New York through the first half of the year, and helping propel it to that point is Jordan Milman, a former Deutsche Banker trader who left the firm last year to help found a hedge fund. According to The Journal, Mr. Milman and his pals at LibreMax weren't down with the Volker Rule.
Could things get any less hip?
Mr. Milman bought a three-bedroom condo atop the 30-story south tower for $2.2 million, according to city records. The price includes a storage unit. (Remember when you moved to Brooklyn for the space? Now you have to pay extra for it.)
The 1,987-square-foot spread first came on the market in June 2008 for $2.56 million, but that was when the towers were still rising and Mr. Milman and his cohort were about to take a fall, so units languished. With both the bankers and their flashy homes back in action, this unit came back on the market in February for $2.47 million.
It looks like Mr. Milman, like his boss, knows how to spot a housing deal, having netted an 11 percent discount.
His home was the most expensive listing in the building, though another three-bedroom penthouse sold for more than Mr. Milman's in November, $2.24 million. It was purchased by LED artist Teddy Lo, who must appreciate the Edge's illuminated roof.
In addition to all the standard features—"LEED certified, unobstructed views, and everything else a buyer could want. Over 40,000 sqft. of amenities," as the MNS listing boasts—Mr. Milman has the pleasure of of a large roof deck accessed through a private stair in the apartment.
Some day soon, in a fit of irony, Brooklynites are going to start buying grand Park Avenue co-ops.
Read past Manhattan Transfers here. >>