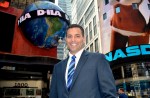 David Simon has opinions about many things, not just commercial real estate: the Industrial Revolution, Democracy, capitalism, the government, and what he calls, simply, the New Order—even the American Civil War and its impact fail to avoid the agent's deep thoughts.
But the subject that the newly minted director at Winoker Realty returns to most frequently is something he calls fragmentation, a buzz word he uses to describe everything from divisiveness that led to the Civil War to the current state of Manhattan's Garment Center.
It's with the Garment Center—a label, by the way, he refuses to abide—that Mr. Simon's theories comes into focus. The historic hub for fashion designers and apparel distributors, he believes, has ceded ground over the decades to foreign countries and cheap labor. As a result, the neighborhood just below Times Square has been transformed into a much more diverse commercial center than its current name suggests.
"What I've learned in business is that fragmentation is an opportunity," Mr. Simon said. "Right now, I truly believe the Garment Center is fragmented. At a certain time it was as hot as a pistol. But now there isn't a Garment Center."
It's a strong statement from a guy who joined the ranks of New York City real estate brokers less than 60 days ago. But for Mr. Simon, a 6-foot-4 former semi-pro basketball center from Queens, candid words come nearly as naturally as testosterone on the court. More than simply trash talk, however, Mr. Simon is backing his words with actions. Since joining Winoker Realty in May, the broker has been immersed in dialogues with 15 potential tenants, has led six of those on tours, and, in his own words, is nearing three signings within just weeks.
Perhaps even more significant is the fact that only a small handful of those clients now seeking office space in the Garment Center are actually in the garment industry. None of this would matter if it weren't for the fact that Winoker's portfolio of 32 properties is located primarily in the Garment Center—making the relatively small company a brokerage leader and a powerful force in shaping the neighborhood's future tenancy.
"Right now, the companies that don't have a physical identity want to be in the garment district," said Mr. Simon, 47, who said many of the buildings he shows in the district demand asking prices of less than $30 per square foot. "And so I really think that it should be changed from the garment district to the media district. And the reason why is because whether it's a dot.com or a social application company, none of them dress to impress—they create to impress. So their offices don't have to have the concierge or the lobbies that run a thousand dollars a square foot."
While his personal workload only includes one media firm, a social network with a global reach (he declined to say which), Winoker has already carved inroads with online start-ups and a number of tech and media firms. In August, Bill Berkis, the firm's senior managing director, inked a 13,000-square-foot deal with BrainPOP, a tech group that creates animated content for students and educators. The deal allowed the 12-year-old company to leave behind three non-contiguous offices for the entire 17th floor at the Masonic Hall at 71 West 23rd Street.
Meanwhile, Mr. Simon is spearheading what he somewhat cryptically calls a social network for real estate brokers. Tentatively dubbed as the "Real Estate Leaders of New York," the website, he said, will connect brokers and tenants with a common cause of retaining and recruiting potential tenants citywide. The idea, he said, is another example of how they're embracing new media.
"We're bringing together a voice for tenant retention," he said, seemingly cautious not to give away too much too soon. "I've been given a big platform to head off a social network for Winoker Realty. I plan to launch a network that fosters relationships with leaders… And it's all about protecting future leases."
MR. SIMON'S ROUTE to commercial real estate brokerage was anything but a straight and narrow road. Born back in Bayside, Queens, the future athlete was raised by his mother because his father abandoned him when he was two—a detail he's proud to embrace.
Mentored by his grandfather, Mr. Simon found his calling on the basketball court as a student at Herricks High in New Hyde Park. His dedication to the sport, he said, led to a position with the Syracuse Shooting Stars, an International Basketball Association team he lead in 1987. Stirred by his fatherless upbringing, however, Mr. Simon retired his jersey after one year in the league, choosing instead to raise his own family while accepting a position at his grandfather's carpet company.
"My grandfather basically said to me, 'Do you want to play basketball for a living or do you want to have a family?,' and after training camp I said, 'Poppy, you're right,'" Mr. Simon said. "And I came and helped with his business."
When his grandfather died, Mr. Simon took over, turning the company into a major servicer for real estate companies across New York. No surprise, the rise in business led to lasting relationships with the city's landlords and brokers. And those relationships led to the job offer from David Winoker, he said.
Now that he's made the transition to brokerage, however, Mr. Simon's gaze is focused on the future. And so, on a recent Tuesday, he spoke passionately about the Civil War, and the country's fragmented populations and how as a nation it eventually pulled together. As imperfect as his analogy was, it was meant to make sense of the Garment Center and its evolution as a district in New York.
"Sorry about the history lesson," he said, following a digression that began with a query about his current roster of office clients. "I'm super deep, and people who read this will know that."
jsederstrom@observer.com