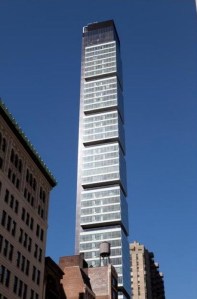 Mid-tier developer Ziel Feldman has pledged $200 million to rescue the city's most troubled residential tower from bankruptcy and take full control of One Madison Park.
According to MarketWatch, Mr. Feldman will team up with the CIM Group (a rumor we've heard flying around for several weeks).  The California-based fund is also developing the Drake Hotel site with Harry Macklowe and is working with the Sapir Organization on William Beaver House and the Trump Soho.
The Observer previously reported that Mr. Feldman had bid $165 million to take over the tower. Similarly, according to this plan, the iStar debt will be split into two components: a $162 million secured note and a $69 million unsecured claim that could possibly be waived.
Months have passed since Mr. Feldman emerged as the leading bidder for the tower, with multiple delays in filing the rescue plan. Nonetheless, Mr. Feldman is far from home safe. Steve Ross' Related Company and Amalgamated Bank, a junior lender, are also vying to take control.
Even if Mr. Feldman and his powerhouse partner, CIM, succeed in taking over the unfinished tower, it will require millions of dollars of renovations, including finishing the lobby, pool and spa. Experts say they will need to fetch on average $2,500 a square foot for the condos to turn a profit.