This week I wrote about Janine Gordon's copyright infringement lawsuit against the photographer Ryan McGinley, and published some of the emails she circulated in an attempt to build momentum for the case long before it went to trial. I'd actually obtained a few more messages she sent regarding the alleged infringements, so here are some highlights that didn't make it into the story. Names have been removed, but besides that, they're unaltered.
This one she sent to a printer the two artists had in common in 2009, after the printer dropped her.
Its really disgusting how you outwardly conceded to print work that look so damm close to mine by Ryan- and it has NOTHING to do with your printing!!!
I printed black and white for 20 years- and now Ive printed over 3 shows of at least 100 perfect prints myself- I understand now why Ryan pushed you and NAGGED you
to stay away from my work-
Are you getting paid so much that you think its ok to do this???
At least you are an ORIGINAL artist- HOW do you feel being part of a CREEPY THIEF who needs ME TO STEAL HIS IDEAS for? I will destroy this mans career now-
EVERYONE will know- he is sick and desperate and his fucking art dealer chris perez probably encouraged it — NO WONDER WHY THEY TURNED ON ME AND STARTED sketching out-
FUCK THOSE COWARDS_
I cant believe you [Printer]- Did you even say something to Ryan about the similar subjects , etc to my work?? or did u just laugh and collect the pay check???????

Here's the introduction from the email that compared selected works of hers to Mr. McGinley's, which I quoted partially in my piece.
I illustrated this juxtaposition of my work next to Ryan McGinley to explain that it is not I who is stealing from him-Look at these 15 examples- over the past 8 years RM has been tailgating my ideas- redoing all my subjects- compositions, themes- content- replacing my real life situations with his mundane cast of creatures- Several Major art dealers and critics have told me that Ryan has been biting – He was warned 2 years ago but to this day continues- Continues to get notoriety , tons of sales and lots of Campaigns where he readily needs fast ideas- I am his victim- Ryan Graduated Parsons School of Design- I on the other hand, graduated The Cooper Union – He obviously learned how to appropriate great artists and make a fabulous living- while the ORIGINATOR of this work is on food stamps hoping for a sale to come in so I dont get evicted this month- IS THIS FAIR???
Recently a very prominent critic had a discussion on artists and stealing- he claimed it was fine and it doest matter that RM can take from me – and he sees nothing wrong with it and I am being a baby…the claim was made that Just because I am a multi media artist and proliferate in more than one media its ok for RM to remake my work ( minus the conceptual dialogue of Sherrie Levine).
Should I concede and 'pussy out' and let other so called FINE ARTISTS use me as their inspiration on a vampiric consistent level just because they have chosen ONE career… which is the Capitalization of Janine Gordon by Ryan McGinley?
I beg to differ- the more I looked at his work AFTER collectors and peers whispered that he was stealing my work hard- I noticed he CONTINUES TO MAKE A LIVING USING MY ART-
He was told, warned and obviously finds it amusing to be a sinister thief.
Here's the full version of the message she sent one of Mr. McGinley's former interns via Facebook.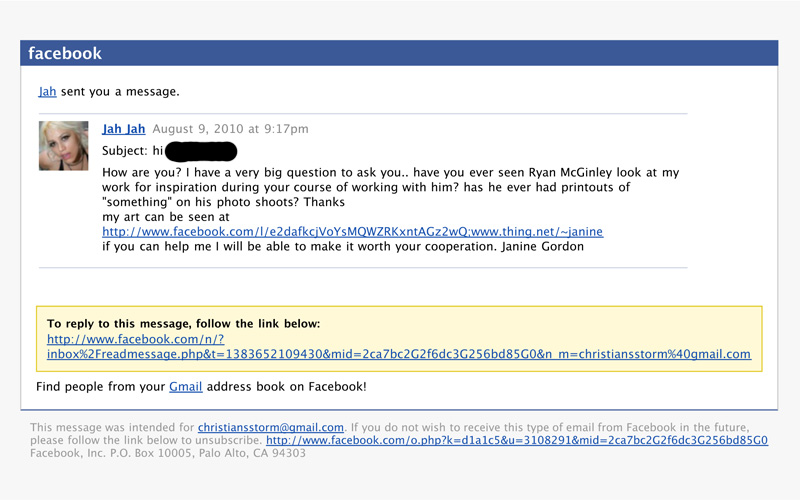 Finally, Ms. Gordon responded to the article via email, so here's that note in full. She particularly took issue with the idea that her lawsuit may alienate potential art world business contacts, and is under the impression that I'm friends with Mr. McGinley, whom I've only met once, at a party, over a year ago.
I wanted to just vent a second to you about this black list comment
that you decided was an important message to promote..
Firstly I haven't been able to show in some galleries because of that
crew that was already trying to
slight my career…Don't think they werent meddling in my career to
prevent me from gaining popularity
and visa versa– the homosocial crew decided to promote Ryan.
I am not worried for any supposed black list– since I am much more
well respected in parts of the world then he
including in the more elite circles of Europe. ALso Dan, just because
you are personally friends with them,
does not mean that they make the decisions in the art world– I have
much more support than you think..
Many many people in the art world are behind me.. some more
spiritually– but dont' forget one thing Dan,
I am a female artist and very few they have allowed to succeed — I
mean really rise– in the art world.. for the past 10 years.
Just because you think I will be black listed, or they threaten to
black list me– anybody who would blacklist me was not
ever going to show me anyway–
peace
Finally, if you just can't get enough of Ms. Gordon, here's a link to her YouTube rap channel. Here's her latest offering, "Radioactive."