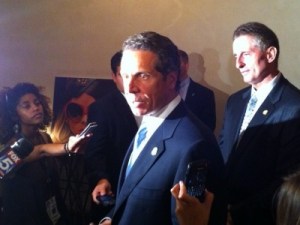 After leaning on a handful of State Senators to switch their stance on same-sex marriage, Governor Andrew Cuomo convinced a few of the former No votes to attend his marriage celebration in Chelsea on Sunday afternoon.
"The governor invited me to come today," explained Queens State Senator Shirley Huntley, on the sidewalk outside the Dream Hotel on West 16th Street. "I've known the governor a very long time. And he wanted me to be here, so I figured that I would."
Huntley was one of four state senators who made it to the party, along with fellow Democrat Tom Duane, and two Republicans, James Alesi of Rochester and Stephen Saland of the Hudson Valley. All but Duane voted against the bill back in 2009.
Along with the governor's prodding, Huntley said she also came to see an old friend — the governor's father, Mario — who attended P.S. 50 in her district, and used to visit Shimer Junior High and sing the school song with her, back when she was involved with the P.T.A.
There were a few other longtime loyalists in attendance, including Drew Zambelli, who served as Mario's last secretary to the governor, and Steve Cohen, who held the post for Andrew before announcing his resignation last week (and had previously interned in Mario's administration).
The event was closed to the press, but Council Speaker Christine Quinn took a couple of quick questions on the sidewalk before the event, and described what it was like seeing the first gay couple get married in Manhattan this morning.
"It sent a chill up my spine," she said.
Reporters began assembling shortly before noon — the time listed on the governor's public schedule — only to find out around 1 p.m. that he had arrived through a different entrance. Shortly thereafter, Cuomo held a brief press conference in the lobby, joined by Lieutenant Governor Bob Duffy.
Cuomo said it was a "historic day," even though he didn't personally know any couples getting married in the city on Sunday.
"This is a statement we should all feel good about," he said, citing New York's place as a leader in advancing equality. As for other states, Cuomo did not sound as if he will be barnstorming on behalf of the national cause.
"Anywhere we can be helpful, we will," he said. "Bob and I have enough to do in this state that we don't need to be running around the country right now. But any way we can help people learn from this experience would be our pleasure."
Asked whether he will support the Republican senators who voted for marriage equality, at the possible expense of a Democratic State Senate, Cuomo said he thought the vote itself would help them.
"What I've said is I believe the legislators who voted for marriage equality, this is actually going to be an asset to them in their campaign; I believe that," he said. "Yes, there's opposition, but by the way, there's opposition to everything. The majority of the people in this state support it. It's a vote of principle. It's a vote of courage. And I think that's what people look for in their politicians, is courage, authenticity, and principle. And this vote shows that.
"So I think it's going to be good news for them in their campaign. And I told them I'm willing to stand up and say that."
After four questions, Cuomo disappeared back to the party, and, a short while later, Alesi strolled through the lobby, eating a bagel. He said he didn't know whether the governor would support him in 2012, but wasn't particularly concerned about Cuomo campaigning against him.
"I'm not worried about the governor as an adversary at this point," Alesi said . "I look at him as a partner — a work partner — and politics will take care of itself down the road."
Alesi has had a strained relationship with both the Republican and Conservative parties in his home district, for a variety of reasons predating his marriage vote, but cautioned Republicans against trying to oust him in a primary.
"I don't think this is the make or break issue here," said Alesi. "I think it's important to understand for someone like me, if I were the loser in a primary, I don't know of anybody else in my district that is going to hold this seat. I hold this seat because I represent the district well…So a loss in a primary for me, I think, would be disastrous for the Republican majority."
Alesi flew in from Rochester on Sunday morning, and, since he missed mass at his own parish, said he'd attend Saint Patrick's to make up for it.
His fellow Republican, Stephen Saland, came down from the Hudson Valley, and was joined by his wife, Linda, who had lobbied him to support the measure.
"We're married 46 years and I've never been as proud of him — to do what he felt he needed to for equality," she said.
The two wore big smiles, even as they explained how they had canceled on a same-sex ceremony in their home district.
"When the governor's office called the second time, we called with our apologies to the couple getting married, explained to them that the governor had invited us — not once but twice," Saland said.
Mrs. Saland said she was hoping for some more invites to same-sex ceremonies in the future; Huntley said she was still waiting for her first.
"I just congratulated everyone," Huntley said of her remarks. "And I expect to be invited to some weddings."