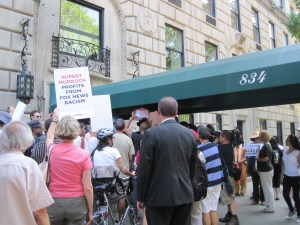 "Rupert Murdoch is a scandal! Out with Fox! Out with Fox!" cried Kitty Worchester. Urging her fellow protesters to join the chant, she waved her sign at Murdoch's empty Fifth Avenue apartment. "Louder, they can't hear us," she chided.
But no matter how loudly she shouted, the sound couldn't quite travel across the pond to Murdoch's London home. And no matter how many emails ColorOfChange.org, an organization that, according to its website, "exists to strengthen Black America's political vote," sent out, it couldn't quite recruit a mob– let alone the kind of angry, multi-racial, multi-generational coalition it was trying to amass.
"Until I got people out here pointing their signs at the cars, they were all involved in their little photo ops, which is typical of advocacy organizations," said Pearl Korn, a protestor and a blogger for The Huffington Post. "They don't know how to coordinate."
So the small group, whose median age appeared to be in the 60s or 70s, chatted up reporters and raised their posters for the cameras. "I think that there's no reason to believe that News Corp is anything but the most insipid, criminal organization in the history of the world," said Harry Waisbren, a Job Party organizer who wore a plastic hunk of cheese on his head. "I think Murdoch might be the most powerful man in the world."
"I grew up in the Civil Rights Movement, and I thought we were getting ahead, but people like Rupert Murdoch, who know how to stir that ancient, ancient racism, are getting ahead," Ms. Worchester yelled to The Observer. "He is an evil, evil force in the universe, and that's why I'm out here."
ColorOfChange.org brought thousands of signed petitions, but when the group crossed the street to deliver them to Murdoch's front door, his doorman refused to accept them. As police shooed protestors, a few men yelled, "Hello, is Rupert home?!"
And when a non-uniformed policeman shoved Mauricio Ramirez, a reporter from Spanish-language news station NTN24, the crowd went as close to wild as it was going to get.
"Don't touch me!" said Ramirez as he tried to push past the policeman. "I'm working!"
"You're being jailed in a minute," said the policeman, who refused to give The Observer his name.
"I saw you push him first," said Rubert Karowitz. "I was watching real close."
"You missed it," barked the policeman. "Get stronger glasses, old man."
Mr. Karowitz, 79, didn't take kindly to the suggestion. "He bullies people," he told The Observer. "He pushes the guy around, and then he threatens to arrest him. Piece of shit, he is."
But as the demonstrators dispersed, Ms. Worchester took a more somber note. "I'm just a grouchy old lady who's been around long enough to know that we can do better than this for you and for other young people," she told The Observer. "God only knows where we're going and what world we're leaving to you, my darling– not much, not much."