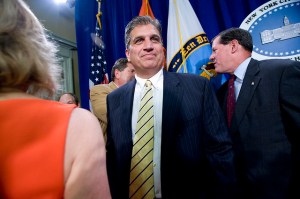 The City Council's powerful finance chairman — who is also one of the Council's richest members — spent campaign cash to travel to Albany on the same day he conducted government business there, records show.

Recchia and two other Council members urged state lawmakers to give New York City more state aid during a February 7 hearing in the state capital. That day, Recchia used money from his 2013 campaign account to park his car in the Empire Plaza. Like most 2013 candidates raising money, the account does not specify which office he plans to seek. He is term-limited out of the Council in 2013.
Later that day, Recchia's campaign spent $50 for a "dinner meeting " in New Paltz — located halfway between Albany and New York City. There is also a $55.50 charge for gas that day at a Sunoco station in Wallkill, NY, which is south of Poughkeepsie.
On March 8, Recchia's campaign paid $129.78 for another dinner meeting in New Paltz. Two days later, Recchia's 2013 account paid $328.90 to fix a flat tire at a Firestone car shop in Albany.(There was supposed to be a Finance Committee meeting in the City Council, but it was cancelled the day before.)
When asked about the charges, Recchia's spokesman, Rob Hart, said "They were campaign-related expenses." When asked to elaborate, Hart said he could not provide additional information and that Recchia was not available to comment on them.
A spokesman for the New York City Campaign Finance Board said campaign money raised from private contributors can be used to cover the cost of holding public office, but that matching funds cannot.
On the state level, the rules surrounding use of campaign funds are not too restrictive — despite being a focal point of Andrew Cuomo's 2010 campaign. His Rochester-based lieutenant governor, Bob Duffy, uses campaign money to pay rent on a house in Albany. A spokesman said the use of campaign funds is saving money for taxpayers.