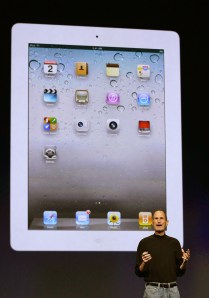 Spectators of the thrilling battle of brands vying for domination in the e-book market will be interested to learn that Apple has made good on its promise to charge retailers 30 percent for any books purchased through iTunes. Competitors of the iBook store — Amazon, Barnes & Noble, Kobo and Google Books — all removed their links from iTunes yesterday as a result, and purchases made from those retailers on Apple devices will henceforth have to happen through a web browser, which is annoying.
This development is particularly depressing for those writers who signed exclusive contracts with Amazon Publishing that limit sales of their e-books to that retailer. Back in May, when we reported on Amazon Publishing, many of those we spoke with said they thought Apple was only bluffing, and that their books would continue to be available through the iTunes store.
"People are saying to me Apple would never do that," Mike Shatzkin, a consultant on digital books and CEO of the Idea Logical Company, told us at the time. "It would be such a P.R. disaster and they don't care about selling books, they care about selling hardware. Kindle helps them sell hardware."
"I'm not worried about it," said Blake Crouch, an author published by Amazon Publishing, when we asked him back in May what he thought about the potential that his books would no longer be available on Apple's store. "I do have all my work available in the Apple store and while it's a growing proportion of my e-book sales it's not even close to what Amazon is doing in terms of numbers."
Also, does this mean that Apple is going to come out with its own dedicated e-reader?