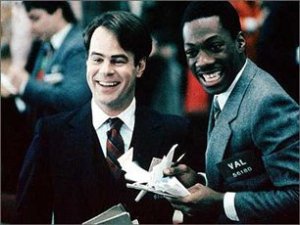 Look at those crazy tech bloggers over at The New York Times' Gadgetwise Blog. It's like a scene from Page One.
Today, a digital short featuring DealBook Editor (and former Wunderkind) Andrew Ross Sorkin and personal technology editor Sam Grobart explores what happens when cool iPhone users exchange cellphones with suit-wearing finance writers.
Apparently, they trade clothes too! Mr. Ross Sorkin ends up riding a bike around midtown and sitting around coffee shops with 50 Cent. Even though he can only write short messages on his iPhone, there is more to life than work! Mr. Grobart finds himself eating olives out of martinis and saying "sell" on the floor of the Stock Exchange. Also, not checking Facebook. Just like a finance guy.
But, like every movie about people exchanging lives, the movie concludes with the realization that both men have to be true to themselves. The other guy's phone might be cool, but it just isn't them.